I guess one of the common problems when going to a popular diner is when you need to queue. Being hungry, all the while looking at other people eating nice dishes – it can be a gruesome experience. On that end, a group of Indonesian people are trying to solve that problem by launching its restaurant online booking service in Indonesia called LivEpicly.
As its name implies, LivEpicly is looking to make your life more epic by making the act of reserving a table a lot easier. All the bookings can be made for free, and the earliest booking you can make is three hours in advance. So far it is only available for Jakarta diners.
I gave LivEpicly a try and saw some things I like, such as plenty of food pictures thrown into my face on the restaurant index. The system to make bookings is quite simple too, and I was able to make my reservations online in less than five minutes. I received a call from LivEpicly about half an hour after I made my booking at Nanny's Pavillon. The LivEpicly guy pointed out that there is a minimum spending of IDR 100,000 (US$10) for weekend bookings made at that restaurant.
I asked founder Joseph Simbar about this and he assured me that Nanny's Pavillon is the only restaurant to enact that policy for weekend bookings. They are doing their best to offer free bookings without any minimum spending. At the moment LivEpicly has 15 restaurants onboard 1.
Users can also order flowers and cakes to be prepared as part of your table reservation. People can also add some requests that the LivEpicly site will pass on to restaurants. I can imagine those features being very handy for birthday parties and other special events.
After being live since October, now there are 90 people being seated by Epicly every month.
The LivEpicly kitchen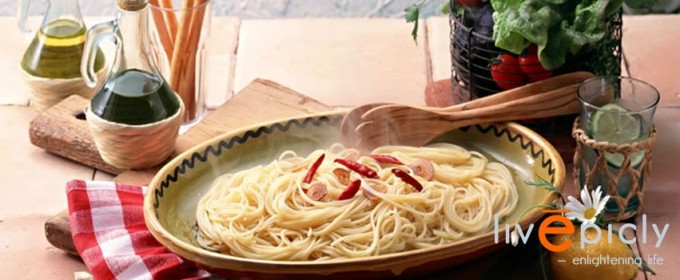 All of the bookings can be made for free. Even better, each honored booking will grant a person 100 points which is equivalent to IDR 1,000 (10 cents). That might not be much, but it's an added value to users who make their bookings on LivEpicly.
How does the team earn money? From the restaurants' side. The team has created an electronic booking system (EBS) that sorts out reservations in real time and charges them for this service. For the users' side, it's all free. But the team marks users who don't show up for reservations and implements a three-strike policy. After three bookings are wasted by one user, that account will be blocked. The team has also put in place preventive measures for unwanted hacks.
The team is invested in by Systec Group. LivEpicly will be looking to expand to Bandung restaurants soon. The startup will release its iOS app by June, and then an Android app will follow suit.
While LivEpicly claims that their service offers the first real-time online reservation service for restaurants in Indonesia, this type of service is already common elsewhere. Singapore's Chope, which offers a similar service to Singaporean diners, raised $2.5 million last month.
---
Looking at the details of those restaurants on LivEpicly, it's funny that some restaurants' price range is described as "pricey."

Facebook Conversation
comments