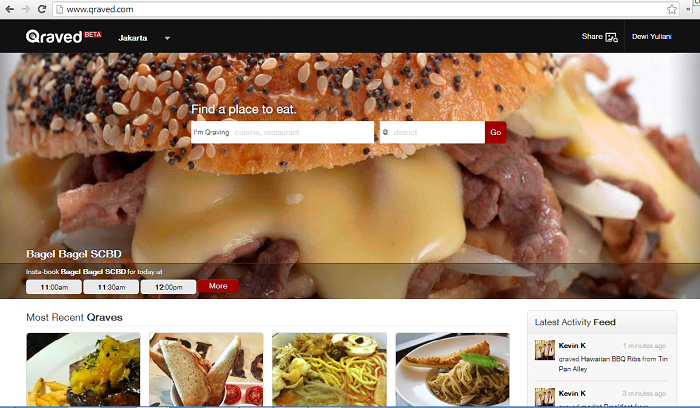 Find a good place to eat in Indonesia's capital and share the pictures of your favourite foods – that's the idea behind Qraved, a brand new food social network. Launched officially in beta yesterday, Qraved aims to be "a smart, social dining directory which helps users find and discover great places to dine at quickly and easily" from the web. You might be using OpenRice, Burpple, Foursquare, or Snapdish to do so already, but Qraved hopes you'll see the benefit in using it in Indonesia, where it has over 2,000 restaurant listings with thousand of food pictures so far.
Qraved aims to give its users the best food experience in town by enabling them to share food photos with added descriptions. Other users can upvote the food by clicking "Qrave it" (similar to a Facebook 'like') and optionally leave a comment. A restaurant's top dish is the one with the most 'qraves'. This also acts as a ranking, and Qraved claims it's the only site to actually rank dish photos. Adrian Li, the co-founder of Qraved, explains more:
So as users Qrave more dishes, a more complete profile of one restaurant is built of the user's dining preferences. This enables Qraved to be "smart" and ultimately provide better search results and recommendations to the user. Users can also "follow" other users to discover great dishes. This enables more social interactions and opportunities to connect with other diners who have similar tastes in food – again ultimately enabling easier discovery of great new dishes and friends.
Restaurant booking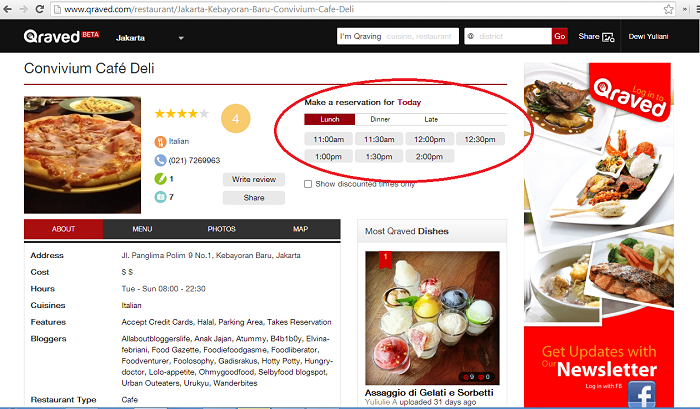 Finally, once you've Qraved all these great dishes and connected with new and old friends, Qraved puts all the information in one simple page where you can see reviews, menus, contact information, and even book the restaurant directly.
Yes, users can make reservations through Qraved, but I would say that not many people are in the habit of booking restaurants in Jakarta, unless they have an event with a lot of invites. When I pointed that out, Adrian shared that it focuses more on "food discovery and enabling easy access to information about restaurants resulting from discovery," rather than the restaurant booking feature. By adding the restaurant booking, the team wants to help solve problems such as ignored calls during busy hours and long queues.
Departing from Rocket Internet
Adrian Li worked with Rocket Internet (a German online startup incubator) for years until finally leaving OfficeFab in April, and the same also applies to Sean Liao and Steven Kim, the other co-founders of Qraved. After departing Rocket, they met up and mostly talked over food, which led them to work together on Qraved. It was finished in three months time.
They saw an open space in Southeast Asia, especially Jakarta, where the number of restaurants has tripled from 2010 and more people are eating out. Adrian admitted that OpenRice is good, but there is potential for a new model executed through Qraved's restaurant booking. Another new rival will arrive soon in the form of Indian startup Zomato, which is working on its Jakarta listings.
For the tryout, Qraved has been in private beta for about a month. It opened to friends and popular food bloggers In Indonesia to give feedback. Bloggers also have an important role in making the most out of the restaurant reviews, because they tend to be trusted by many customers. Other users might write a review by logging into Facebook first to make sure that real people are writing credible reviews. Adrian added, "We work with restaurants to ensure that all the information is verified and correct. If the restaurant has the vendor app installed, they can manage it all themselves instantly. They can also call us to make updates if that is easier for them."
On the monetizing side, restaurants can get a freemium subscription where they enter listings, and then buy a monthly paid subscription to use its powerful backend to manage bookings and marketing.
Plans to expand
Adrian says Qraved has no head-to-head competitor because many food related sites and portals in Indonesia only focus on food reviews. Qraved, on the other hand, focuses on photo sharing, social interaction, and restaurant bookings.
Qraved plans to expand to Surabaya and Bali this year. Adrian adds, "We recognize that both Bali and Surabaya have large populations in our target demographic and also a rapid increase in dining venues in recent years. Therefore, we see that both these cities have potential for our service."
(Editing by Steven Millward and Paul Bischoff)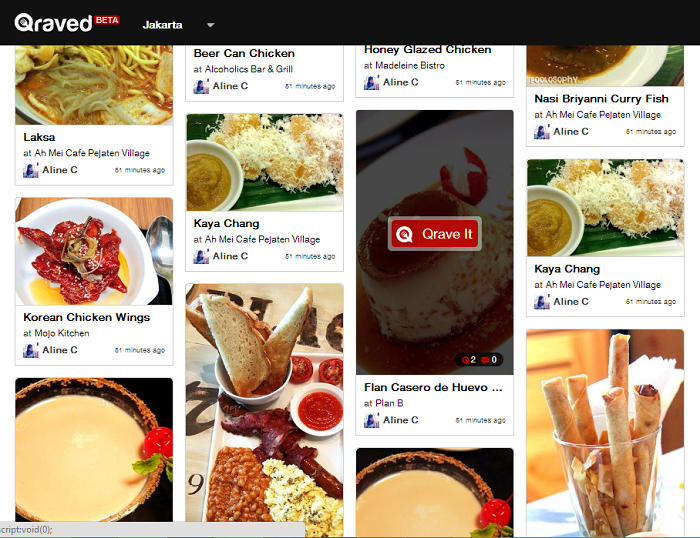 Facebook Conversation
comments