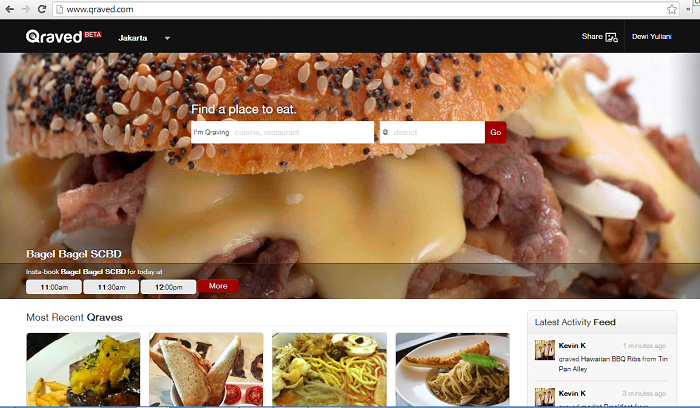 It has only been ten days since Indonesia's social dining directory Qraved was released to the public and we've already heard great news from Adrian Li, the company's co-founder: Qraved has raised seed investment. The new funding comes from Rebright Partners (which led the funding round), 500 Startups, and Skype co-founder Toivo Annus. The amount itself is undisclosed. As I wrote before, Qraved is a restaurant directory as well as a social network for food lovers. It has 30 team members across Indonesia and China right now.
Adrian told us that the money raised will be used to create mobile apps (to be launched soon) and vendor apps (in development stage) for both customers and vendor partners.
With interest in the food business, Qraved's investors are trying to create more opportunities in Indonesia. 500 Startups invested in the country for the first time with Qraved, with 500 Startups's Dave McClure believing that there's still room for more opportunities in the online food and beverage industry. Takeshi Ebihara from Rebright Partners said that "the clear monetization strategy, huge white space in the vertical and the founders' experience made this a very compelling investment opportunity for us."
Qraved's monetization strategy will be getting merchants subscribing to the monthly premium service, which will help them manage bookings and marketing better on Qraved, said co-founder Adrian Li:
On premium accounts restaurants will have more control of how they are featured on the site. This could for example display their page/search results in special parts of the site that would expose them to more traffic. We're still working on the details though as our focus is on the user experience and making Qraved the go-to place for diners to search and discover great places to eat.
We're a bit skeptical about the service just because Indonesians still don't have the habit of making restaurant reservations, but Adrian hopes that Qraved's convenient booking features can help spark the habit. He further explains:
We provide instant bookings to consumers as a convenience which helps solve many issues which we've faced before such as busy phones, no one answering – or trying to make a booking in the middle of the night! It also saves a lot of time as people often will dine in groups and we will enable sending booking details easily to your friends as well as having all the information to get to the restaurant and other details in an email to the guests. We hope by making bookings super easy, fast and efficient more people will want to use them.
As a side note, Rebright Partners has previously invested in other Indonesian startups such as Adskom while Tovio has invested in Coda Payments, a startup that enables users to purchase digital content on the web or mobile using prepaid mobile credit in Indonesia.
(In collaboration with my colleague, Enricko Lukman)
(Editing by Charlie Custer and Willis Wee)

Facebook Conversation
comments