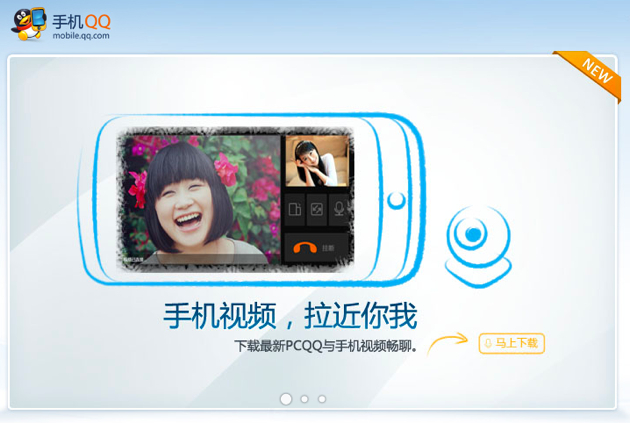 Tencent has added video chat to the Android smartphone version of its ubiquitous QQ instant-messenger. The updated QQ for Android app – now at Beta 3 stage – leaps ahead of its iPhone and iPad variant with this new video support.
The entire app got a make-over too, rendering its UI lighter in colour and more easily navigable. The QQ Android app now relies more on swiping between the three panes that house your chats, contacts, and groups. There's also a sweet implementation of one-touch switching between your open chats by simply touching one of the avatars that'll gather on the top row above the chat area. A video chat is initiated by clicking the central, funkily-stylized webcam icon within a chat.
I gave the app a spin this afternoon, and I'm pretty impressed with its look and smart navigation. Unfortunately no one on my list was available for a video chat, as it was the middle of the day.
The new feature will work best on new Android smartphones that have front-facing cameras, such as a HTC Desire or a Samsung Nexus S. It'll work cross-platform with your buddies who're using QQ for Windows, Mac, or this new Android Beta 3 version.
The QQ for Pad app, which is aimed at Android tablets, has not yet received video support.
Tencent seems to be an a video roll recently, adding video chat support to QQ for Mac back in June, and then last month creating a competitor to Apple's FaceTime with its Weishi video calling platform.
If you want to check out the updated QQ for Android, you can get it from the Android Market or direct from QQ itself.

Facebook Conversation
comments