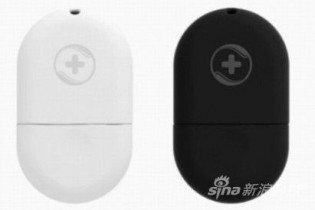 Qihoo 360 has for a long time been connected with rumors of hardware development, and aside from its smartphone line in connection with Haier, not much has materialized. Until now. Sina Tech is reporting that the company plans to launch a mini wireless router that will allow anyone to create a wireless network simply by plugging the router into a computer that has internet access. The idea is that it makes setting up wifi easier for mobile devices; all you need to do is find a computer with an internet connection and plug in your 360 router.
The device hasn't been officially announced yet (we've contacted Qihoo to see if they'll confirm or deny it), but Sina Tech's sources have provided a lot of details in addition to the images you can see above and below. The device is very small, plugs into any computer's USB port, will cost 20 RMB ($3.27), and comes in the black and white colors you see above.
The device apparently came out of Qihoo's observations of its customers' behavior; Sina's source says the company noticed that users were transferring files from phone to PC and vice-versa using actual cables instead of doing it wirelessly, presumably because establishing the wireless connection was too complicated. Qihoo's new router aims to make it simple.
Of course, Qihoo's controversial reputation ensures that like almost any product it launches, the wireless router is likely to be met with both enthusiasm and skepticism. In the comments thread on Sina Tech, plenty of users have said they're excited about the new product, but several have also wryly asked if it will automatically upload users' browsing histories to the cloud, a reference to concerns about user data security in Qihoo apps. We also have asked Qihoo about this too, so hopefully we'll be able to update this article soon with details of how the device handles security.
(via Sina Tech)

Facebook Conversation
comments