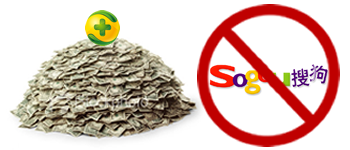 China web giant Qihoo 360 (NYSE:QIHU) raised $550 million Wednesday through the biggest convertible bond sale ever from a US-listed Chinese company. Many analysts speculate the money will be used to buy a search rival, combine forces, and compete with market leader Baidu (NASDAQ:BIDU). At the top of the acquisition rumor mill was Sohu's (NASDAQ:SOHU) Sogou search unit, but Qihoo today denied that was the case (article in Chinese). But before Qihoo could quell the gossip, Sohu shares jumped nearly five percent in Wednesday's trading.
So what is Qihoo going to do with its $550 million in cash? A company spokesperson said the money has no clear targets, and is mainly to make preparations for when "the time is right" to make necessary actions.
Rumors have been swirling over Qihoo's possible acquisition of Sogou, China's third-largest search engine, since February this year. Such an acquisition could nearly double Qihoo's search market share in China. Early stage talks between Sohu and Qihoo were confirmed last month.
Qihoo's latest quarterly report earned the company a net profit of $33 million, an increase of 372 percent year-on-year, while net revenue was up 108 percent from a year earlier. They attributed part of the surge to better-than-expected growth in search.
(Editing by Steven Millward)

Facebook Conversation
comments