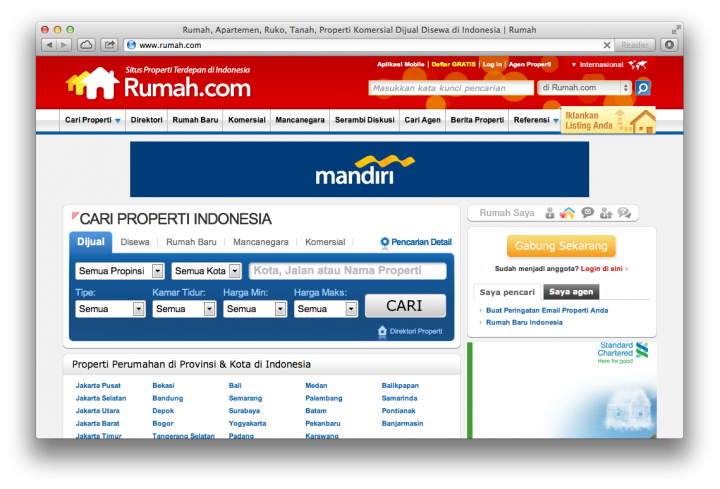 When Rumah.com was acquired by Singapore's PropertyGuru in 2011, it was a "horrible website" in terms of looks, but was always graced by high traffic simply because of its excellent domain name – "rumah" means home in Indonesian, so you can imagine the number of Google queries it must get. Two years later, Rumah has more than 150,000 property listings in Indonesia from over 6,000 property agents with two million users and 16 million page views every month. Today, the site is officially unveiling its iPhone app and the mobile version of their website, completing the line-up of mobile apps for Blackberry (legacy OS) and Android.
Rumah's case for entering the mobile arena is a classic one. With an increasing amount of traffic coming from mobile devices (almost 20 percent) in Indonesia, the team felt the need to provide mobile users with a better experience, hence the Blackberry app rolled out in April 2012, followed by the Android version in March this year. That order of priorities might seem strange, but if you're familiar with the Indonesian smartphone market then you can tell that it's not odd to target Blackberry first.
Finally on iPhone
Rumah's new iPhone app actually has been in the App Store for a month already, and has already been downloaded over 6,800 times, the company tells us, far exceeding their target of 5,000 downloads before August this year. The iPhone app differs from its Android and Blackberry counterparts with a 'search on map' function. Other than that, there's little to no difference. One Rumah app feature that's interesting to notice is the mortgage calculator, where you can quickly calculate your monthly payment given the price of the house, the length of the loan, and the interest rate.
Rumah's managing director Chris Antonius says the plan is to provide an app for property agencies to place their property listings from their mobile device – something that currently can only be done through the website. He also says that the team will focus on optimizing the app in the future.
When asked about competitors in Indonesia, namely Rumah123 and Rumahku, Chris was quick to explain Rumah's strategy to focus on customer satisfaction rather than on monetization. A quick surf to Rumah123 reveals a total of more than 170,000 listings, which exceeds the 150,000 on Rumah.
You can download Rumah's cross-platform apps on the homepage.
[Update: Rumah contacted us to clarify that Rumah's listing expires after 120 days while Rumah123's expires after six months (180 days)]
(Editing by Steven Millward and Anh-Minh Do)

Facebook Conversation
comments