Updated Indonesian e-commerce sites list here: 9 Popular E-Commerce Sites in Indonesia (2013 Edition)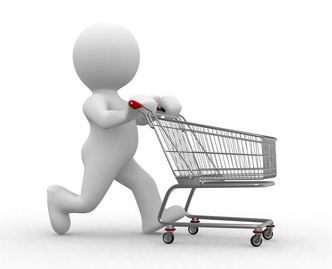 The growth of e-commerce and social commerce in Indonesia is now enlivened by the presence of both local and foreign sites.
We thought it would be great to list out some of the more popular online shopping platforms in the country for your reading pleasure.
The list is not exhaustive but it does provide you with a good overview of Indonesia's online shopping platforms.
---
---
The most popular e-commerce site in Japan has just arrived in Indonesia, and immediately won the attention of Internet users in this country. Rakuten provides ease of payment through bank transfers, and also easy steps to open an online store on the site. With additional weekly discounts, it encourages users to visit at least once a week. Rakuten aims to be the number one e-commerce site in Indonesia.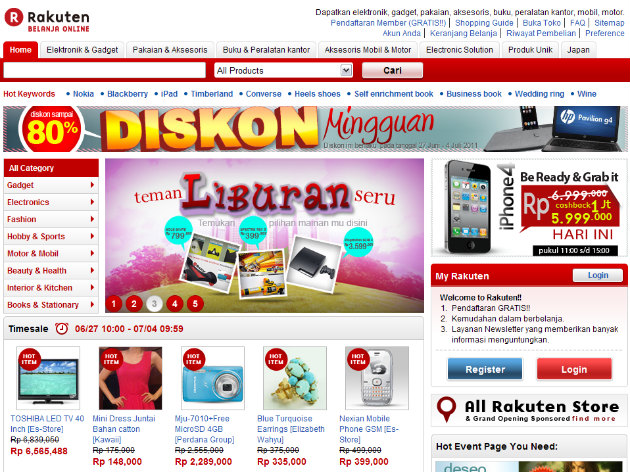 Alexa Stats:
As a new player in the country, Rakuten Indonesia is currently ranked at the 503 postion on Alexa.
---
---
Originally a social networking site, Multiply has evolved into a social commerce arena. Indonesians leverages on Multiply to socialize and at the same time sell their goods. The social commerce site came into Indonesia with a lot of buzz, both good and bad. Apparently, Daniel Tumiwa, head of Multiply Indonesia remains upbeat with Multiply chances in the country.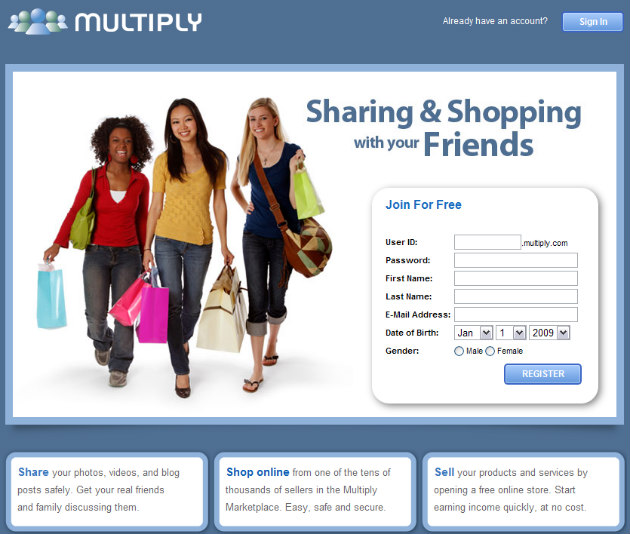 Alexa Stats:
Multiply has a global rank at 380 on Alexa and 25 in Indonesia.
---
---
Kaksus is the nation's largest community forum, containing many sub-forums for various discussions ranging from political news, infotainment, to trading. Before the emergence of e-commerce sites in Indonesia, most local people were using Kaskus to trade and they are still doing it now.

Kaskus' trading forum (FJB) has been around for five years. Member can sell goods ranging from used mobile phones to the latest BMW car. Everyone can search for almost anything in this forum with any price range, making this forum an excellent source of shopping information.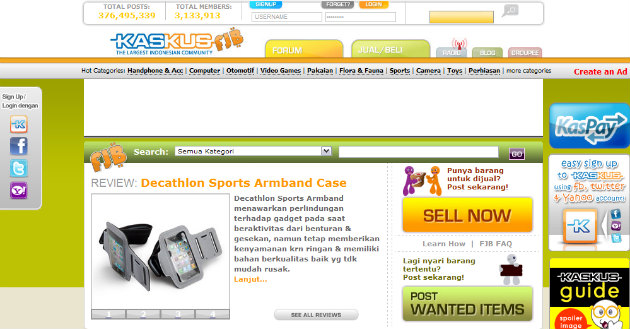 Alexa Stats:
Kaskus is ranked number 328 in the world, and the number 7 most popular site in Indonesia. Most Kaskus members are based in big cities like Jakarta and Surabaya, considering the levels of the economy that allows them to spend more money on trading/e-commerce forum.
---
---
Tokobagus is one of the most popular e-commerce sites in Indonesia, if not the most popular in the country. Its popularity is supported by a number of their ads through digital and tradition media like street banners and billboards.

To allow customers to shop while on the go, Tokobagus recently launched a BlackBerry app. Now customers can easily register, advertise, and manage their online shopping activity via their BlackBerry.
Alexa Stats:
In Indonesia, Tokobagus is ranked number 20 in Indonesia, and 1662 in worldwide rankings. Since its launch in 2003, Tokobagus has been popular among Indonesian Internet users, especially those in Malang and Semarang.
---
---
Kutukutubuku (the word means "Book fleas" in Indonesian) is an online bookstore owned by Aulia Halimatussadiah who is one of initiators for # Startuplokal, the heart of Indonesia's start-up community. Kutukutubuku offers a wide categories of printed books, movies, and music. Book prices on this site are about 20 percent cheaper than the usual price.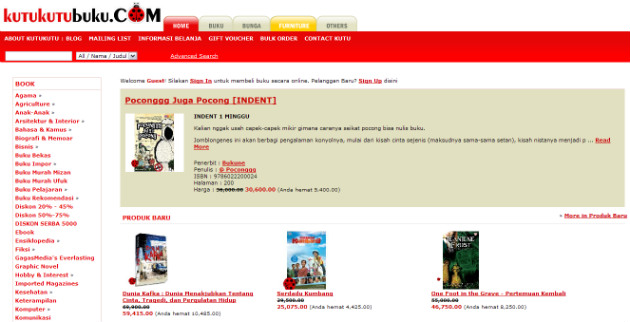 Alexa Stats:
Ranking number 50,671 in the world, 28,000 in Indonesia, and 7,200 in China. Kutukutubuku attracts visitors from all over the world with traffic continue to rise.
---
---
Disdus is one of the favorite group-buying sites in Indonesia, which was eventually acquired by Groupon in April. Disdus offers attractive daily deals and discounts, making the site one of the best options for local shoppers.

Disdus offers daily deals in many cities including Bandung, Bali, Makasar, and others. It also provides big discounts in every two days, notifying users by email or BlackBerry Messenger.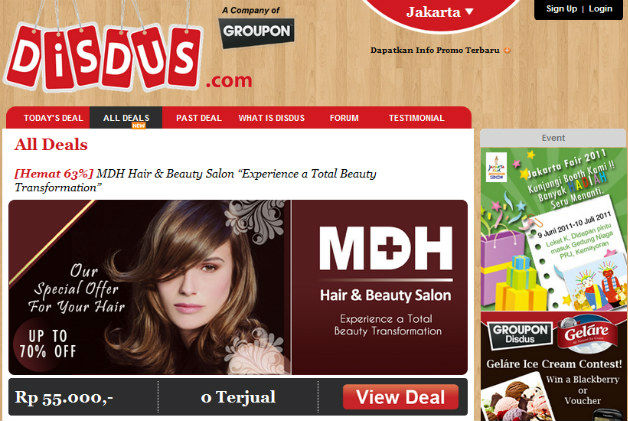 Alexa Stats:
Currently Disdus is ranked number 22,859 globally and holds the number 211 spot in the country.
---
---
DealKeren is a big competitor for Disdus. Like any group-buying site, DealKeren provides discount coupons for a various offerings, including restaurants, beauty, and music concerts.

DealKeren is owned by Ensogo, a giant group-buying company based in Thailand. The company, including DealKeren, was recently acquired by LivingSocial. This acquisition will help DealKeren battle it out with Disdus for an epic group-buying war in the country.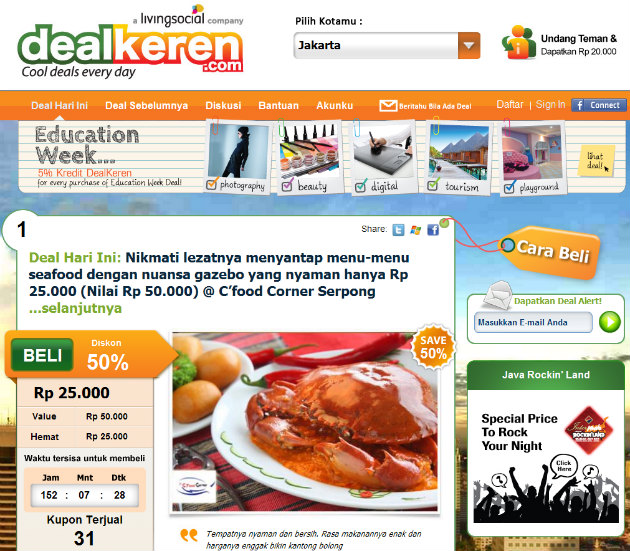 Alexa Stats:
Currently at number 18,198 worldwide, and rank 219 in Indonesia. Slowly but surely, the graph continues to climb as more customers register on the site.
---
---
Launced in 2009, Tokopedia is one of the most favored online markets start-ups in Indonesia. The site includes extra facilities such as personal assistants for members who want to open an online store and order tracking for more secure transactions. Users can also view and add other members into their social network. You can read our interview with Tokopedia's founder, William Tanuwijaya here.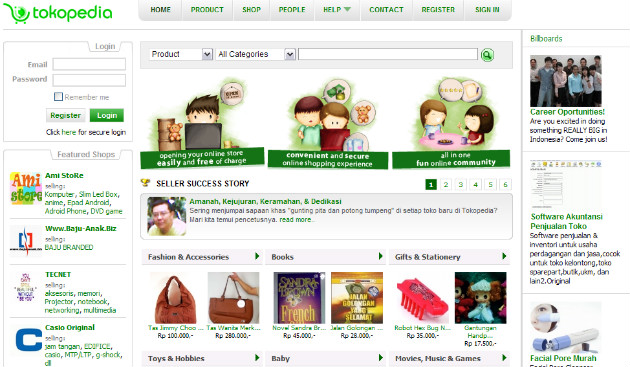 Alexa stats:
Tokopedia occupies the 17,420 spot in global rankings, and is number 244 in Indonesia.
Are there any sites that we missed? Feel free to add them as comments.

Facebook Conversation
comments