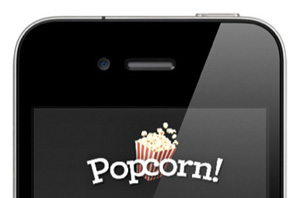 Popcorn is a new mobile app on iTunes which helps movie lovers to search for showtimes, previews, and book tickets. We recently met co-founder of the app, Lee Ken Ming, who says that his app is "really cool" and has the potential to be "the best movie app in town."
He sounded pretty confident and so I gave it try. My conclusion? I like it. The app is solid. But there are areas where it could have been better. Nonetheless, Popcorn serves its purpose pretty well – search, preview, book — all in an app (iTunes link).
Search: Popcorn's search functionalities pin-point what movie lovers are looking for exactly: (1) movie date and time, (2) movie title, (3) and theater. It loads pretty fast on 3G too. Nonetheless, I thought the date selection was pretty disappointing as it only allows search to be conducted for today, tomorrow, and day after tomorrow. In other words, folks who are searching for movie tickets from Monday to Wednesday can't use the search function to book tickets for Saturday, which is a common movie day.
Preview: Movie previews are pretty good. It includes a neat write up with the running time and movie cast listed. Every movie is also linked to a YouTube movie preview video and is integrated with Rotten Tomatoes' movie rating — one to five stars —
which helps users to make a more educated choice quickly. However, it will help if users can view comments from local reviewers though, especially on locally produced movies which don't have reviews on Rotten Tomatoes. Facebook integration that would allows users to comment would be neat.
Book: Popcorn provides a full list of theaters across Singapore. In other words, there seems to be no favoritism towards a particular cinema. Clicking on 'book' will lead the users to the cinema's page. So depending on the cinema, some of the theater sites aren't mobile friendly to facilitate easy booking through the iPhone. But the option of letting users buy straight from the app makes things more convenient.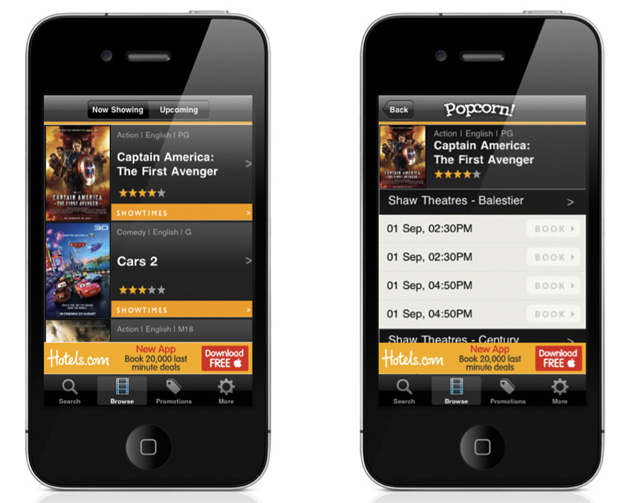 Popcorn isn't without competitors though. A couple of my friends in Singapore are using the Showtimezz app to check for movie while on the go. I used to use that too but I personally find it a little cumbersome. It doesn't have a search option to help users find movie information quickly and accurately.
I must admit I rarely use an app for movie booking. Rather, I prefer to Google for movies and buy it online before heading out to meet my friends. But it doesn't hurt to have Popcorn on your iPhone though, just in case.
Popcorn is free to download and is generating revenue via ads for now. Ken Ming explains his business model to me further:
Business model wise, we hope to work with cinemas and other businesses who would like to reach movie goers. As with most apps, the first consideration is the user base which is the most important factor.

At this point, revenue share with cinema operators is probably out of the question as they are used to spending on print and traditional media, as well as their own apps and online channels. Perhaps in the future as mobile becomes more mature, channels like Popcorn will see some of that money.

Facebook Conversation
comments