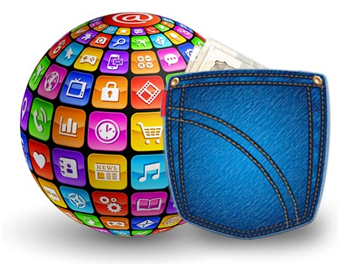 Traditional display advertising is failing content creators. With an oversupply of inventory, rates have fallen to rock bottom, causing publishers to seek other ways of making money.
Pokkt (pronounced 'pocket') is an India-based startup that wants to solve this problem. After graduating as part of the first batch from Mumbai-based GSF Accelerator, it has raised a seed round of an undisclosed amount from Singapore venture fund Jungle Ventures and Samir Bangara, former managing director of digital at Disney UTV. Pokkt will use the money to expand to Southeast Asia.
The startup has an online marketplace with three parties: consumers, content creators, and advertisers. Users can buy apps, games, videos, music, and more without paying a single cent. Instead, they pay by spending their time registering for services, installing apps, and completing surveys from advertisers, which pay to access Pokkt's user base. So in effect, advertisers are bankrolling the consumer's purchases — a concept called transactional advertising.
Such an idea is not new of course. California-based company TrialPay has been pushing its "transactional advertising platform" since 2006 and has raised up to Series C in funding from prominent investors.
But Pokkt is perhaps one of the few tailoring such a marketplace for emerging Asia. Mobile developers can integrate its platform into iOS and Android apps. The startup also operates a WAP platform, ensuring that both feature and smartphone users are served. Transactional advertising could be attractive for users without credit cards — and they form a majority in developing economies — since they now have a way to circumvent the lack of an ubiquitous and secure payment gateway.
Pokkt's success though depends on the number of eyeballs it can secure for advertisers. Since launching three months ago, it has secured five publishers, 25 advertisers, and has exposure to over 25,000 consumers.
The company is founded by by Rohit Sharma, Vaibhav Odekar, and Sharad Ingule, who share expertise in web publishing, app development, and product management.
(Image credit: Pokkt)
(Editing by Josh Horwitz)

Facebook Conversation
comments