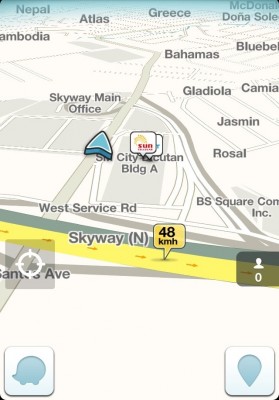 Manila's traffic is terrible. Traffic authorities are trying to devise solutions for this seemingly never-ending dilemma. Filipino and Asian startups are trying to address it as well.
Even a mobile carrier is getting involved: Philippine telco Smart Communications has announced a partnership with Israel-based Google-acquired startup Waze. Of course, Waze is available to everyone, but the partnership gives subscribers access to the traffic navigation app at a low cost.
The telco will allow its subscribers to access the app for only Php 2 ($0.04) for three hours. Users simply have to send "Waze2" via SMS to 211.
For someone who needs help with navigation, a three-hour data connection can be enough to get to their destination. But for frequent travellers, the service is also available for one- and seven-day promos, which costs Php 5 ($0.12) and Php 30 ($0.70) respectively. Meanwhile, a one-month unlimited access to the Waze app will cost Php 99 ($2.30).
With motorists facing heavy traffic in Metro Manila, a low-cost solution to finding directions is helpful. Drivers cannot do much in a bad traffic situation. But at least they can find alternate routes through the crowdsourced information in the app.
The only downside to it is, when users access other data-reliable apps apart from Waze, additional charges will be deducted from the user's credit. So for users who intend to access other apps apart from Waze, it'll be more ideal to use the telco's promo for unlimited internet acess, which costs around Php 15 ($0.35).
Smart's sister company Sun Cellular and subsidiary Talk 'N Text will also roll out the same service in the coming months. According to Smart, of the nearly 50 million worldwide users of Waze, 300,000 come from the Philippines.
(Editing by Terence Lee)

Facebook Conversation
comments