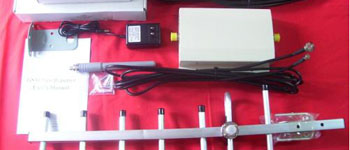 We noted earlier how competition in the Philippine telco space is an ongoing battle. In the most recent service test by the National Telecommunications Commission (NTC), Smart Communications edged over Globe Telecom in terms of service quality, thus prompting Globe to strengthen its action against illegal use of signal boosters.
Signal boosters not approved by the NTC for commercial use are rampantly sold at local retailers. These come in the form of indoor or outdoor antennas attached to either mobile phones or PCs or wireless adapters that boost network coverage and signal by hogging bandwidth from a legitimate network infrastructure. For consumers not using the booster, this leads to signal interference that causes dropped calls, garbled lines, and weak reception.
The telco company says it launched the campaign against illegal signal boosters in 2011 following increasing incidence of signal interference cases, as was seen in its network monitoring group. These incidences have been reported regularly to the NTC, according to Globe.
Following this premise, Globe has recently signed agreements with several major gadget and IT equipment retailers to curb the practice of selling illegal repeaters and signal boosters. The agreement prohibits retailers from peddling signal boosters.
Large local retailers like CD-R King General Merchandise, Electronics Boutique, and Smile-Com agreed to exclude any form of promotion such as listings, brochures, labels, flyers, advertisements and other printed or digital paraphernalia about mobile signal boosters.
To further strengthen this advocacy, attorney Froilan Castelo, Globe's head of corporate legal services, the company asks its subscribers to immediately report any suspected cases of network interference due to illegal repeaters and retailers who continue to sell such equipment.
Apart from Globe, to date, there are still no statements from Smart Communications on whether its subscribers are also affected by the same problem. Despite Globe's action, a number of signal boosters are still being sold by individuals and other vendors through online platforms like Sulit. Now, the next question is, how can the telco and NTC can prevent illegal sales at smaller retailers?
(Editing by Paul Bischoff)

Facebook Conversation
comments