The 10th edition of Beijing Tech Hive, the city's premiere Startup Weekend-style 54-hour hackathon, came and passed. Six teams demoed their progress in front of five local VCs Sunday night.
Top prize went to Milefo (no link available), a goal-based savings and investment app for individuals in China. Named after the laughing Buddha who predicts future wealth, the app helps people to save up money and invest wisely. Choose any financial goal based on how much you need and by when you want to have it – a new car, a rainy day fund, retirement, etc – and use a slider to select your preferred risk-to-reward ratio. Once you've put in all the relevant information, the app will withdraw a select amount of money from your bank account every month and put it towards that goal in the form of a personalized stock-bond mix. The app sports a simple UI to visualize your progress and even share it with friends.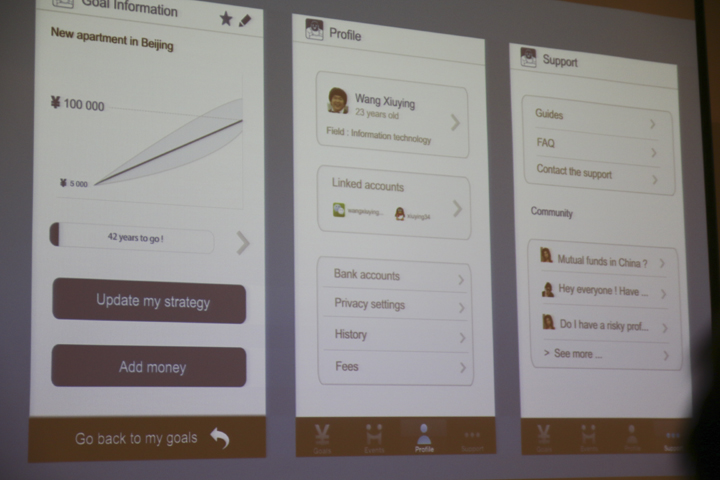 Founder Gregory Vandenbergh says this is preferable to the other three options available in China: mutual funds that are heavy on fees and not transparent, private advisers that target the extremely wealthy, and broker accounts that require a relatively high degree of financial literacy. Milefo aims to be more convenient, completely automated, likely to beat the market, charge low fees, and be completely transparent. The app also has a very low barrier of entry – you can invest as little as RMB 100 ($16.40).
Vandenbergh says the Beijing Tech Hive event had a positive impact on his startup, especially the VC mentors. "They're a bit like devil's advocates, so they made us rethink our model quite a bit."
He says his team already extensively tested their investment portfolios prior to Tech Hive to minimize volatility and maximize returns. He's been working on the project with a professor and another teammate since June at Cheung Kong Graduate School of Business, where he received his MBA. During the event, he joined new teammates, at least one of which he hopes to hire permanently. They created a demo app with limited functions to show off to the VC panel. Vanendbergh hopes to have a beta version ready by late December.
Another social network … for pets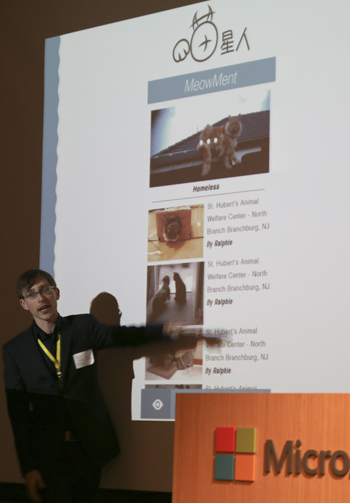 Runner-up went to an as-yet-unnamed pet social network for China. While China has many online venues for uploading pet photos and videos, sharing stories, and asking advice, this claims to be the first fully-featured social network for cats and dogs. The status quo of cluttered, confusing sites and BBS don't utilize built-in video uploads nor are they organized into multi-threaded posts. This new offering includes pet profiles, groups, a news feed, and WeChat-like messaging. Posts can be shared on Weibo and Weixin. Founder Witold Kozlowshi says the app will gain traction by encouraging people on other sites to make profiles for homeless cats and dogs, which many online conversations regarding pets revolve around.
It's worth noting that the two front runners both had demos available for the judges, something which all the others were lacking. It goes to show how much something tangible can sway investors versus a few slides and screenshots. Milefo and the pet social network were also the only teams led by foreigners, although most teams had a mix of both local Chinese and expats. Milefo also won the people's choice award, where audience members voted via a ballot that asked, "If you had one million yuan, which would you invest in?"
You can check out all six teams on Beijing Tech Hive's Facebook page.
(Editing by Steven Millward)

Facebook Conversation
comments