As I wrote yesterday, there's a trend in Thailand of people building their own personal e-commerce businesses on top of Facebook pages. And as evidenced in our own research and from comments on that article, it's clearly not a trend specific to Thailand. It's happening across Asia.
Page365 is building its startup on top of this growing trend. The fledgling company analyzes text on Facebook, and translates that into a dashboard for sellers to monitor their customer behavior, requests, and purchases. In other words, if I'm a Facebook Page merchant, I don't have to monitor my Facebook Page directly, I can use Page365's dashboard to piece it together for me in a nice clean interface like this:
According to Prathan Thananart (aka Pop), CTO at Page365: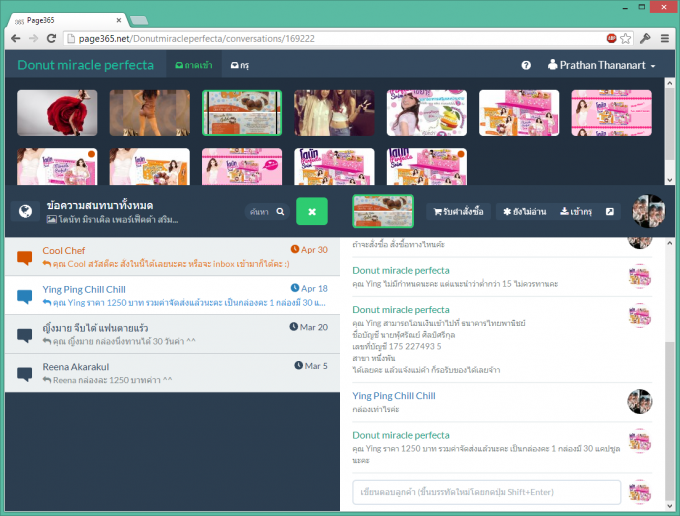 You can think of it as a specialized spam filter, because the underlying mathematics starts out very similarly. Instead of "spam" and "non-spam", we label a message "inquity", "order", "complaint", and so on.
Why Facebook merchants need Page365
So Page365 pings the Facebook servers all day for text, and reorganizes it. If I'm a merchant, why does this matter? Well, the bizarre thing about this new Facebook merchant trend is that it's largely informal. There are very common cases where the merchant posts a product on their Page, and then the customers literally comment on the picture saying "Hey, I want the red version of this product, please ship it to my address, my address is …" and the merchant will reply "Sure, I have received your payment, thank you, I am shipping the product now." It should be obvious to you that this is particularly tedious, bizarrely public, and overwhelming. Page365 solves these exact problems, making all of these informal purchases easier. And the cool thing is customers have no idea that this system is happening in the background.
Currently, Page365 is coming out of stealth mode and has around 20 to 30 shops already using the platform. All those shops amount to 400,000 likes. So far, over 8,000 customers have gone through the Page365 system without knowing it. In total, Page365's system has processed over a million comments since launch.
Page365's founders
Pop and Lusarun Silpsrikul, the CEO, both met at Startup Weekend Bangkok a few years back and the dream of Page365 came out of the growing popularity of Facebook commerce – sometimes called F-commerce. Pop explains to us:
It was in television ads. Almost everyone knew a friend who operated their own online boutique store. One such friend approached us with her pain point and she became our first customer.
From there, it all started with a quick "ugly hack" from their team. One cool little fact about these two guys is that they've made a promise to never pay themselves until they make a profit. Now, that's dedication.
Looking to a social commerce future
The team believes "there is huge value in the social aspect of Facebook as an e-commerce platform, such as viral effects and impulse buying, that will be unattainable with other sales platforms." In the near future, this philosophy also extends to other platforms including Line and Instagram, where informal merchants are also starting to sell. They're also looking at other verticals like reservations and ticketing for merchants that are selling their tickets and take restaurant bookings on Facebook.
The team is also looking into a full-stack implementation where they can handle payment, inventory, and shipping. This will free up merchants to work on being more creative and hunting better products. They're looking for local partners in Malaysia and Indonesia.
Here's the mobile version too, in case you were wondering: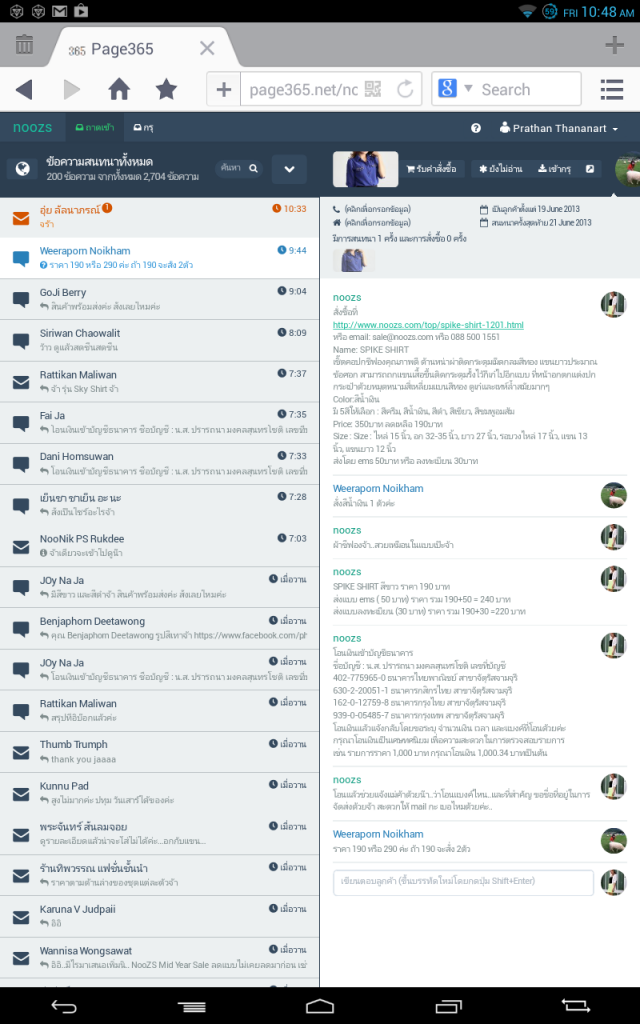 Facebook Conversation
comments