Opera, one of the world's leading mobile browsers just issued out an interesting infographic on Vietnam today that gives us some really interesting insights on Vietnam's mobile scene. Now, of course, all of these numbers are very specific to Opera, but it still is telling of Vietnam's mobile web. Opera is, after all, one of Vietnam's leading mobile browsers next to Chrome, Dolphin, and UCWeb. Here's some of the numbers (unfortunately Opera didn't reveal their exact user numbers in Vietnam yet):
Android is the number two platform in Vietnam. Most likely after Symbian, which means since 2011, Android has overtaken iOS, which was 50/50 two years ago.
User growth has skyrocketed at 211 percent on Android since 2012.
21 percent of users are checking news online.
Facebook is tops with 69 percent of users checking on Opera Mini
The most telling stats on the infographic may be the top 10 sites that people are accessing on Opera Mini. It's a good litmus test for what people are interested in on mobile. The verdict? Entertainment.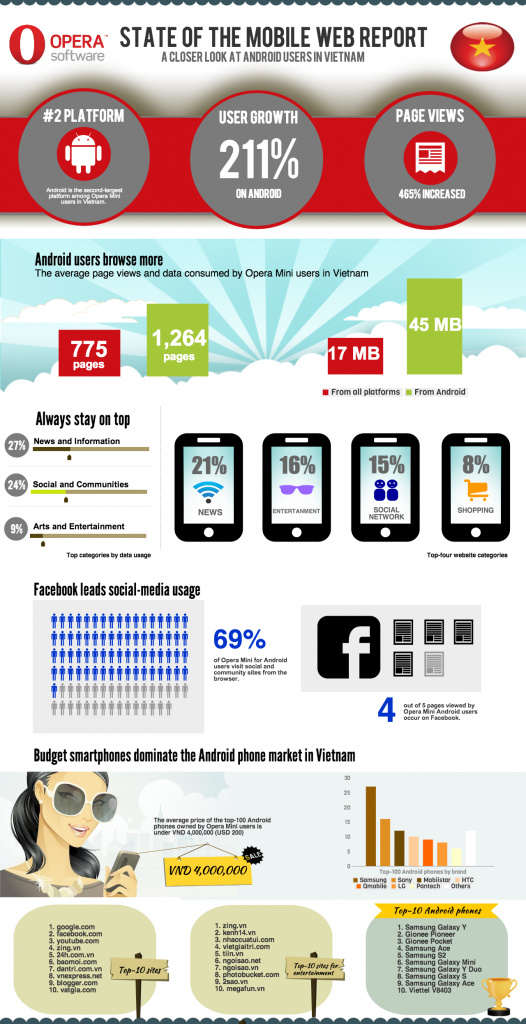 Facebook Conversation
comments