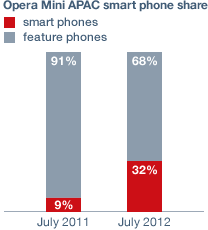 A few weeks back Opera released its 'State of the Mobile Web' report, with insights on regional mobile market based on trends from Opera Mini web browser usage. As you can see from the company's chart on the right, the proportion of Opera Mini usage on smartphones versus feature phones has increased significantly this year over last year.
We got in touch with Opera to see a breakdown of Opera Mini usage according to country, which we have plotted on a map below, with data coming from July 2011 and 2012 [1]. Opera Mini usage on smartphones (vs feature phones) has increased in a number of Asian regions, perhaps most noticeably in China where it jumped from 10 percent in July 2011 to 52 percent in July 2012. Similarly, Hong Kong rose from 24 percent to 52 percent.
Other regions with a modest proportion of smartphone Opera Mini users but showing strong growth are Malaysia (from 11 percent up to 20 percent), the Philippines (from 3 percent up to 15 percent), and even Indonesia to an extent (from 1 percent to 5 percent).
Among the other trends that Opera reported is the fact that Facebook is the top domain observed, ranking as the top web property in 16 of 25 countries. This does not include China where Baidu is tops, or Japan where Google wins out.
---
Keep in mind that smartphone users on iOS or Android are not likely to be using Opera Mini. All data comes courtesy of Opera, with the map created by TechInAsia.com.  ↩

Facebook Conversation
comments