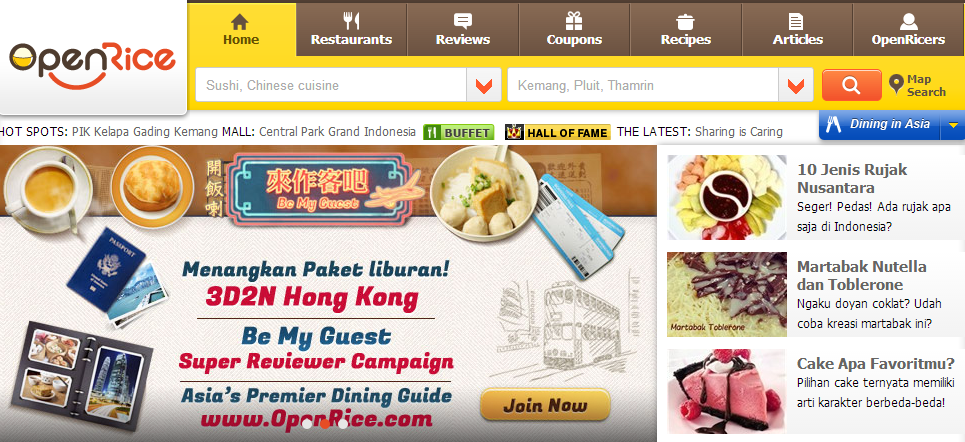 Many of you might know the well-established Hong Kong-based online dining guide OpenRice. Founded by Ray Chung in 1999, the site was acquired by JDB Holdings in 2007 and has expanded to eight countries in Asia, including Indonesia. So, how is OpenRice Indonesia doing?
OpenRice Indonesia was launched in April 2010 as a restaurant information site as well as a community and sharing platform for Indonesian food lovers. At the moment, there are around 86,000 restaurants listed on OpenRice Indonesia, mostly from big cities such as Jakarta, Bali, Semarang, Surabaya, Yogyakarta, and Bandung. To help users easily find dining places that suit their needs, OpenRice Indonesia categorizes the restaurants based on cuisine, district, and price range.
Besides detailed information like the address, map, phone number, operating hours, and signature dishes, the site has restaurant reviews written by members.
Over 100,000 reviews in Indonesia
OpenRice Indonesia's 34,000 members have made and shared 130,000 reviews so far. Members can get promotions and discounts that are offered by some restaurants.
As for competition, Qraved is an interesting newcomer in the online dining guide field. It is a strong rival to OpenRice Indonesia, especially in the Jakarta region. India-based Zomato launches will soon launch in Jakarta as well soon as well.
OpenRice's Sherly Huang says the company doesn't fixate on competitors and focuses on quality, like avoiding fake reviews and biased information. OpenRice also operates a restaurant management system, which lets restaurants manage their pages on OpenRice, letting them update menus, cover photos, and promotional info. This system also allows restaurants to communicate with members who review them. The restaurants who want to get access to this system are required to pay, and it's now the main revenue source for OpenRice besides adverts.
OpenRice Indonesia also provides mobile apps for iOS and Android. In the near future, OpenRice Indonesia will roll out a revamp of these apps, as well as a restyled desktop version.
It seems that online directory sites are hot properties in Indonesia, with established sites like general online city directory Urbanesia being challenged by startups like the brand new JKTGO. Plus, more specific ones such as the urban listings on Cariyuk are also in the space.
(Editing by Steven Millward, Willis Wee, and Paul Bischoff)

Facebook Conversation
comments