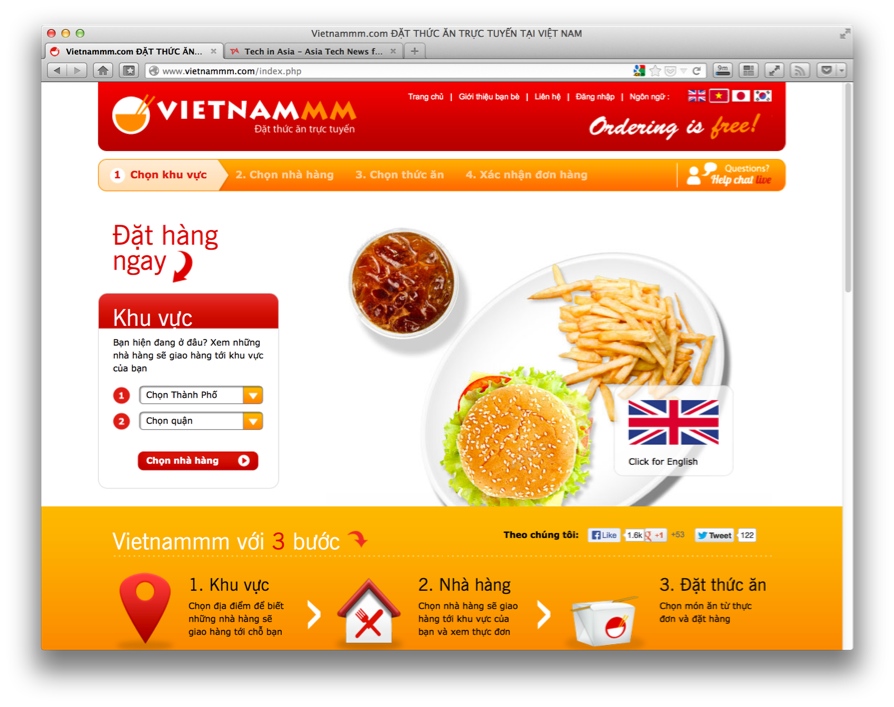 I've written about Vietnam's four main players in the food delivery space and noted that Vietnammm was one of the key online services Saigon. Well, today the startup was acquired by Takeaway.com, one of the biggest food delivery websites in the world. Takeaway itself processes over one million orders per month globally. It will be adding the 20,000 deliveries a month that Vietnammm.com ships per month in Vietnam to its repertoire.
The acquisition will be watched closely by Vietnammm's two most significant players. Foodpanda, which is run under Rocket Internet's many regional internet properties, has recently been amping up its advertising and is very keen to conquer one of its most important Southeast Asian markets. Eat.vn, which was acquired by VC Corp last year, has been very successful in Vietnam's capital city, Hanoi, and has long been an incumbent like Vietnammm.com. VC Corp is also one of Vietnam's most prominent online media companies, owning one of Vietnam's premier news portals and forums, Kenh14.vn. Both of these companies have giants backing them and will not let up when pitted against Takeaway.com.
Takeaway.com was founded in Holland and has been growing up to 75 percent year on year. The deal will allow Vietnammm to take advantage of Takeaway.com's platform, which includes iOS, Android, and Windows Phone apps. Rival Foodpanda offers mobile apps, but only for Singaporean customers. This will be Takeaway.com's first foray outside of Europe and certainly its first step in Asia. We may be witnessing the beginning of many more acquisitions in Southeast Asia from Takeaway.com. After all, it got $17.8 million in funding early last year. Unfortunately for us, Takeaway.con did not reveal how much it paid to acquire Vietnammm.
(Editing by Steven Millward)

Facebook Conversation
comments