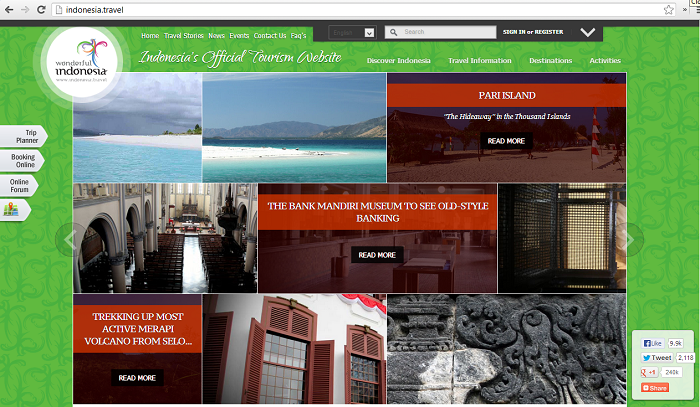 Indonesia.Travel is the official tourism website run by Indonesia's Ministry of Tourism and Creative Economy since 2009. Potential tourists can use the site to find information about Indonesia, including insights about destinations, travelling across the nation, upcoming events, and lots more. From July to August, it has seen more than 180,000 unique visitors and more than 400,000 page views, with booking site Traveloka as the number one referer.
In December this year, Indonesia.Travel will expand to serve as a hotel booking platform. It has closed a partnership deal with PegiPegi for this purpose. PegiPegi was chosen because its backend system is compatible with Indonesia.Travel's.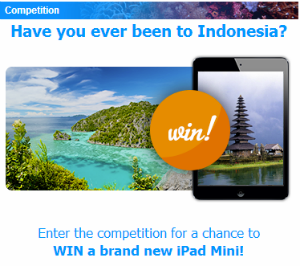 We talked directly to Elnienesia Meirinza, the project officer of the website, because we think that Indonesia.Travel is a late arrival on the scene, but now it's trying to promote itself more aggressively.
Being a promotional site, it has more competitions running, such as a story-oriented one called Travellers' Stories (see here), another one with Kaskus Travellers (here), and a collaboration with Kompasiana in the form of a writing competition about Indonesian traditional food (here).
Aiming at China market
Yesterday we looked at how Indonesia's top airline has added support for Alipay, a Chinese e-payments service, because China now has the world's top travel spenders. Likewise, Indonesia.Travel is aiming itseld at tourists from China, and Elnie points out that the site has been marketed actively in China this year through banner ads on the Chinese version of Tripadvisor. The team also plans to launch a Chinese-language version of Indonesia.Travel around September.
Beside China, users of the site come from countries like Malaysia, Singapore, Australia, Thailand, and Philippines.
(Update: Elnie shared more information about its target market with primary markets including Singapore, Malaysia, Australia, and secondary markets including China, Japan, South Korea, Phillipines, Taiwan, America, England, and France)
Planned Indonesiatravel.biz revamp
The tourism ministry also runs Indonesiatravel.biz, the official Indonesia travel business website for local travel operators to list and sell their tour packages. It started in 2010 but the traction is not there and the content is not up-to-date, with very limited listings despite it being the "official" website.
Elnie says that the team planned for it to be a platform for local tourists, but perhaps because most local people are not so tech-savvy, it never picked up steam. To solve this, the team will hold seminars across Indonesia in November. They've also signed an agreement with a big travel agent (undisclosed for now) to fill in the content. So there will be packages from both travel agents and local tour operators. It will use an escrow payment system, but Indonesiatravel.biz won't take any profit from payments.
With all those plans ahead, I hope that the website will be maintained and developed well – and prove useful – since it runs with taxpayers' money and people tend to be skeptical how well government departments can keep up with the private sector.
(Editing by Steven Millward)

Facebook Conversation
comments