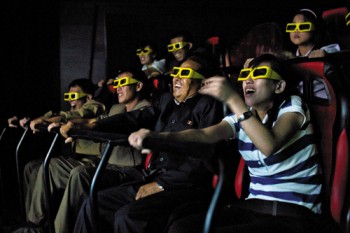 North Korea just got a little bit more fun. Earlier this month, the Hermit Kingdom's Kim Jong Un toured a new facility at the Rungna People's Pleasure Park in Pyongyang. According to KCNA, it includes both an arcade with numerous video games available and a 4D movie theater that features a 3D picture and additional "rhythmic" features. It's not clear exactly what that means, but it seems likely that seats in the theater vibrate along with the sound of the film.
It doesn't look like too many people in the country will be enjoying 3D films anytime soon, though, as the theater is quite tiny; it appears to feature just eight seats. That didn't stop Kim Jong Un from enjoying the facility though. The secretive leader watched two 3D films there during his tour, both of them domestic films made by one of the country's largest production houses. And he must have enjoyed them, because he reportedly remarked that similar theaters should be built in each of North Korea's provincial capitals.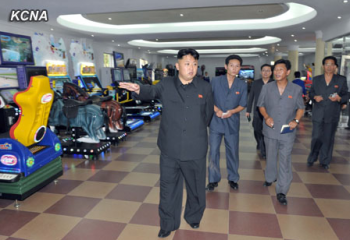 The video game arcade looks a bit bigger based on the photo released by KCNA (left), but it's not clear what games are featured or where they come from. Consequently, there's no word as to whether or not Kim Jong Un played a round of Dance Dance Revolution in the new arcade.
(KCNA via North Korea Tech)

Facebook Conversation
comments