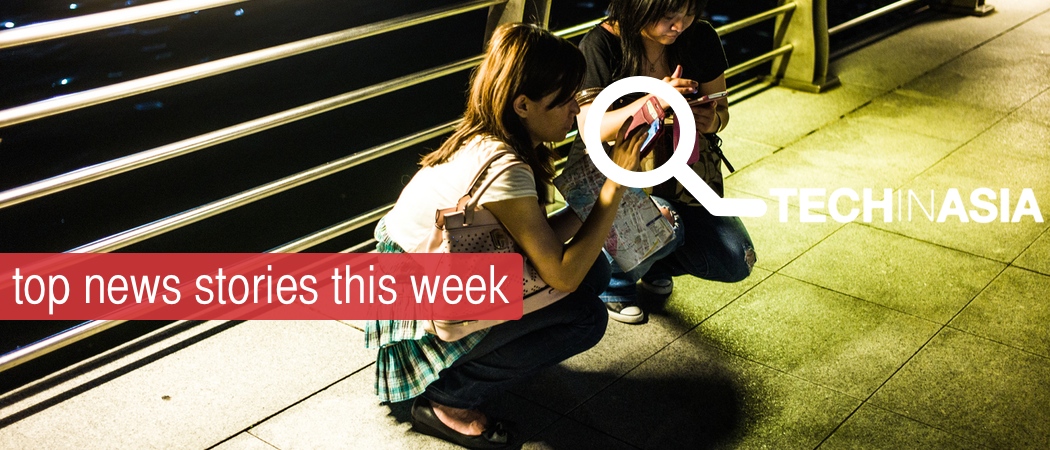 Undeterred by typhoons and searing heat, there was plenty happening in terms of tech news across the continent this week. Let's jump in:
Willis: 100 million is a huge figure. Does Tencent's WeChat really have a chance on the global stage? It seems like it. And Tencent's resources could be the key to making it work.
Steven: WeChat is perhaps China's most used mobile-only app, as well as the country's top social media export. It's also interesting to see how Lionel Messi has scored a hat-trick for WeChat with his TV ads for the messaging app around the world.
---
While my colleagues have chosen more serious news like censorship, protests, and acquisitions, I'm choosing one that is fun: Iron Man. HTC has been struggling recently, and with Robert Downey Jr. in HTC's new ads, we will see how important branding and marketing is compared to only making nice phones.
---
Saiyai: Oh, how I've wondered the same thing! Leslie Shannon from Nokia Siemens Networks nails the key points as to why LTE in Asia is still not taking off. What I also notice in Thailand is that infrastructure is also a problem. Even today, Thai authorities are still debating when the auction for the spectrum used for 4G will take place, and whether there will be any infrastructure sharing among the main telco companies.
Phoebe: I agree with my colleague Saiyai here. In the Philippines, LTE is the hot new thing, but infrastructure still needs to be worked on. Apart from that, I think the bigger barrier is that not everyone has the means to own a $500 smartphone for LTE's sake. I believe this is not only happening in Thailand and the Philippines, but in other Asian countries as well.
---
Well, here's a great big acquisition we've all been waiting for. Baidu, which already has its own Android app store, is grabbing 91 Wireless to become arguably the biggest app store operator in the country. In total, their combined users downloaded over 69 million apps per day. But the real key here is mobile. Baidu is looking to ride the inevitable trend of mobile, and 91 Wireless has got the awesome wave of data that Baidu's crawlers, bots, and algorithms can surf on.
---
If this initiative from the Thai government passes successfully with cooperation from Line, 15 million Line users will have their chats monitored within the country. With the recent clampdown by the Vietnamese government on social media as well, its a worrying indicator for online freedoms in Southeast Asia and what the future might hold.
---
Lazada is one of the most popular online shops in the region today. Online businesses are also very common to people in Southeast Asia, but most of them don't have enough resources and exposure to allow the business to grow faster. Lazada's expansion into a marketplace is a great way of offering web-based opportunities to small businesses in this region.
---
Depressing news, but this is what China's government wants its internet to be like. It's also interesting in that it shows how naive the government can be sometimes; is there anyone rational who really thinks web celebrities are even capable of being society's moral vanguard?
---
It is good to see that an Indonesian e-commerce startup can survive for four long years and still be doing well in the industry, despite the many competitors in this arenas.
---
It is interesting to see how Instagram is used as a tool for protesting in the Philippines (pictured). This is definitely a testament to the impact of social media in our daily lives. People will always be looking for a medium to express their views and Instagram is the perfect place with its huge user-base and visual-first medium.
---
With 82 million monthly active users, Facebook is on a roll in India as it is still the second largest market for the social network after the United States. Along with other strong markets such as Japan and Indonesia, Facebook is seeing the strongest growth – 339 million monthly active users – from Asia alone. I'm looking forward to see Facebook's salesforce expansion and new hires for its Facebook Ads business units.
---
The stats shown here surprised me in two ways. One is that Vietnam has such a high number of PC users. The second surprise is that Indonesia – with almost half of Southeast Asia's total population – has just fourteen million PC users. If this stat hold trues, startups and businesses who are targeting Indonesia better have a plan to engage with its mobile web users.
---
Thanks for dropping by again this week, folks! For other ways of reading us, perhaps try our tailored RSS feeds, or find us within the Flipboard or Google Currents mobile apps.

Facebook Conversation
comments