A while back we told you about how Netease was planning to launch an eTao-like product price comparison search engine, and lo and behold, here it is. Going by the name Huihui and featuring a slick orange design, the site looks pretty cool. But how well does it work at finding deals?
I began by search for some Converse-knockoff shoes, and I have to admit I was very underwhelmed. Huihui is clearly quite heavy on 360Buy listings, because for each of the four shoe models I looked at, 360Buy was the only vendor listed. That makes the whole price comparison thing sort of pointless, and I have definitely had better luck with shoes on eTao in the past.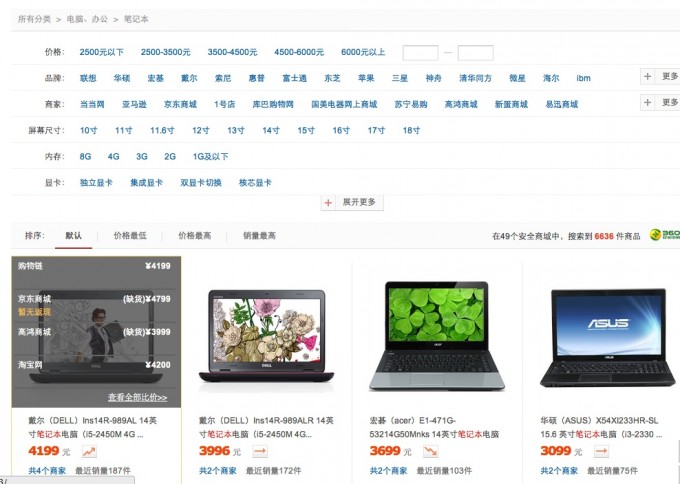 But when I switched to searching for computers, things picked right up. As you can see from the image above, search results come with a lot of filtration options, and products have a convenient mouseover popup that reveals a price comparison between different indexed e-commerce sites. But, as you can also see from the image above, the listed price on Huihui is not always the lowest price found by the search engine. For example, that Dell in the lower left corner is listed at 4199 RMB even though there's one option in the price comparison that puts it at 3999 RMB. This seems to be true across the board, and it makes shopping on Huihui a chore because you have to mouseover every single product to be sure the listed price is actually the lowest one they offer. This won't matter for people who already know exactly what model they want, but for anyone interested in browsing, it's going to be pretty annoying.
Huihui's bigger problem will likely be competition, though, both from the aforementioned eTao and from smaller competitors like Sina's Yiqisoo. Right now, I don't think Huihui has what it takes to stand out, and it doesn't seem to offer shoppers much reason to switch from whatever price comparison service they were using before. Still, it's a slick-enough product and Netease fans may find it quite useful so long as they know exactly what product they are looking for before they start their search.

Facebook Conversation
comments