India's premier IT and software services trade association Nasscom – the National Association of Software and Service Companies – has opened its first co-working facility. It's called Startup Warehouse, and it's created for tech startups and the entrepreneur community in the Diamond district of Bangalore. It opened yesterday.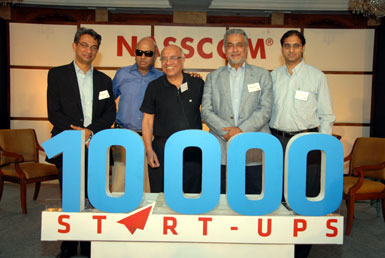 This comes after Nasscom's 10K program in April this year that aims to nurture 10,000 startups, and which is run with the support of Google, Kotak, Microsoft and Verisign. Nasscom aims to nurture 10,000 startups in the next 10 years and give a major boost to software product development in India. It has already received some 2,000 applications stating interest in this Startup Warehouse initiative.
The Startup Warehouse will provide a well-connected, top-class office space for technology startups, and will support entrepreneurs in their early stage of operations as well as act as a hub for innovation, collaboration, and entrepreneurship. For this key initiative, Nasscom has formed a partnership with the Indian state government of Karnataka.
Startup Warehouse spaces across India
Going forward, Nasscom will come up with similar Startup Warehouse facilities in other top cities across India, aiming to offer good infrastructure to tech startups at an affordable price. They'll always be made available to startups during their first six months of operations.
Besides the facilities, the startups will be supervised and mentored by experienced entrepreneurs and investors. However, the financial details of this new initiative have not been disclosed to the media.
According to KK Natarajan, Nasscom's chairman, within the first 150 days of its inception, the 10K startup program has received an overwhelming response and achieved numerous milestones in its short journey. Natarajan added:
The launch of the warehouse facility for startup companies in Karnataka is yet another milestone to create, sustain and boost the entrepreneurship culture within the state. We congratulate Govt of Karnataka for their proactive support to the cause of building a robust startup ecosystem in the state and stimulate the technology innovation rate in Karnataka.
ISN Prasad, the government of Karnataka's principal secretary and a Department of IT and Science official, hopes it will "will foster innovation under one roof" in a way that will boost the region.
Not doing enough for software startups?
All these years, Nasscom has been extensively focused on the IT and software services industry including Business Process Outsourcing (BPO). But since the body itself is dominated by representatives of large IT and software services companies, many smaller software product firms felt that Nasscom was not doing much for the startup end of the software product development ecosystem in India.
In fact, to address this issue, a new think tank group known as the Indian Software Product Industry Round Table, or iSpirt, was formed around January this year. Interestingly, it was this move that forced Nasscom to come out with its 10K startup program and send out a message that the body is equally interested in supporting software product development as it is in IT and software services in India. However, iSpirt has already stated that it's not a Nasscom competitor and both groups are working closely with each other.
(Image: InToday)
(Editing by Steven Millward)

Facebook Conversation
comments