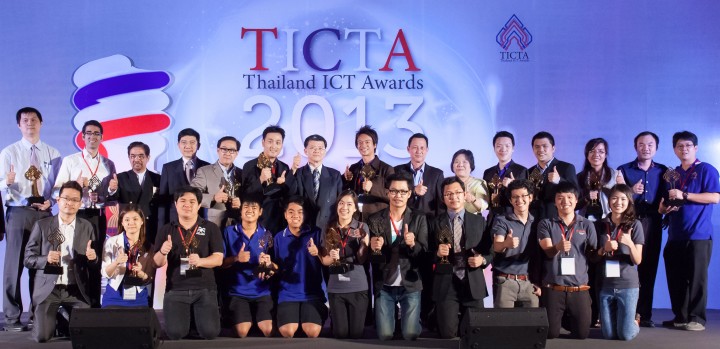 On Monday, Thailand's Software Industry Promotion Agency (Public Organization) (SIPA) and the Association of Thai ICT Industry (ATCI) partnered to organize TICTA Expo 2013 to showcase the finalists from the Thailand ICT Awards (TICTA), a national software contest that has been around since 2007. The awards reward companies with creative and outstanding products.
This year TICTA Expo 2013 had 64 finalists from 223 projects on display across 18 different categories. The winning team from each category will be sent to participate in Asia Pacific Information and Communications Technology Awards (APICTA) 2013 in Hong Kong from from 24-27 November 2013 as representatives from Thailand.
Here are the names of the winners from each category:
Tools and Infrastructure Application: ONEWEB
Communications Application: Social Enable 2.0
E-Inclusive and E-community: Longdo Card
E-Learning Application: LangAid
E-Government and Serivices: Information system for monitoring and processing of the National Health Security Office (Thailand)
Financial Industry Applications: Universal Loan Organization (ULO)
E-Health and Well-being Applications: SenzE
Retail and Supply Chain Management: GPS Data Center
Industrial Applications: CPIAs
New Media and Entertainment: Chatterbox
Research and Development: No winner
Security Applications: No winner
Tourism and Hospitality: Fourleaf
Agriculture Applications: APP Fonluang
Sustainability and Environmental: ICONBPM (ICON Business Process Management)
Start-up Company: Season Touch
Secondary Student Project: @pple(แอดพีเพิ้ล)
Tertiary Student Projects: SkyPACS
Congratulations to all the winners!
(Editing by Charlie Custer)

Facebook Conversation
comments