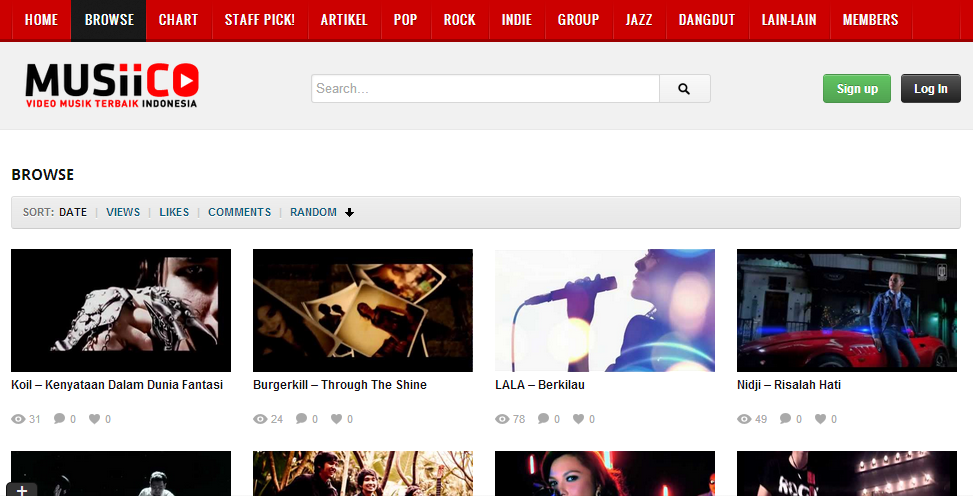 Youtube may provide all the video content you can mention. But if you are an Indonesian music video lover, you're better off visiting MUSiiCO. The website aggregates and curates high quality Indonesian music videos.
In early 2013, Riswan Rais, one of the persons behind Pulsk, created an Indonesian music video website using Blogspot. The website was revamped into a more flexible platform on July 2013. The founder claims that MUSiiCO offers the best selection of categorized videos from both artists and music labels.
MUSiiCO was founded to expose Indonesian music videos and potential Indonesian musicians who have gone undiscovered due to lack of promotion or under independent labels. Many good Indonesian musicians and bands are unfamiliar to the Indonesian people. Founder Riswan Rais tells us:
MUSiiCO will be my contribution to the Indonesia music industry, aimed to be a channel to facilitate people to find their favorite music from Indonesian artists, bands, and performers, across wide and possibly all music genres, where people could catch up with the latest music trends in Indonesia.
MUSiiCO's content consists of music like jazz, pop, rock, indie, viral videos, acoustic, soundtrack, and, of course, Dangdut – an original Indonesian genre of music. The main sources for MUSiiCO content are Youtube and Soundcloud (for demo music with no video). MUSiiCO also covers articles related to Indonesian musicians and music videos.
A tough road ahead
Currently, less than three hundreds videos are on MUSiiCO. If it aims to be an 'Indonesian Vevo' in the future, then MUSiiCO should provide more videos for users to see the site as their channel for Indonesian music.
Exposing new potential in Indonesian music is interesting, yet challenging for MUSiiCO. Since the music trends in Indonesia are dominated by mainstream music and artists, the independent yet potential artists are not well-exposed. As a result, they are not familiar to Indonesian people. Also, selecting good music is not that easy, because of the huge amount to filter through. If MUSiiCO can overcome those obstacles, it can greatly impact the development of the music industry in Indonesia.
In the near future, MUSiiCO plans to provide new features for the website so users can create their own video playlists. As for monetization, MUSiiCO plans to have selected and filtered paid posts. It also plans to partner with labels and online music stores to sell Indonesian original music more easily. MUSiiCO doesn't have any investors at the moment, but is open to investors who have a similar vision to empower Indonesian music and have a strong network in the music industry.
(Editing by Paul Bischoff and Steven Millward)

Facebook Conversation
comments