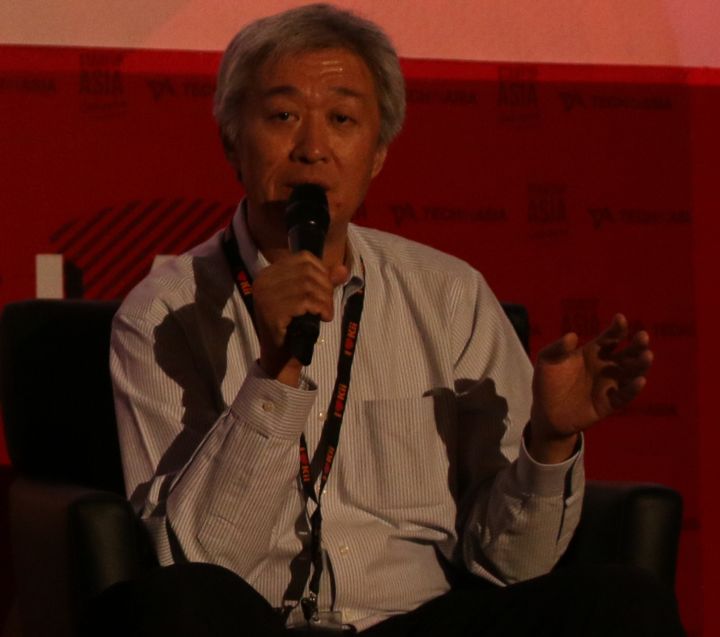 Kii provides a backend-as-a-service for mobile developers who want to maximize revenue, gain global distribution, and turn their apps into full-fledged businesses. Co-founder and chairman Naoshi Suzuki started and self-funded the company in 2007 before it received investments from well-known investors like JAFCO. Today, Kii has over 100 engineers based out of Tokyo, Beijing, Shanghai, Valencia, Silicon Valley, Hong Kong, and Taipei to serve the millions of developers who are using its service.
Suzuki sat down with Tech in Asia's Terence Lee at Startup Asia Jakarta 2013 to talk about the startup's development throughout Southeast Asia and beyond.
#11:55: Lee and Suzuki take the stage
#11:57: Some intros: Suzuki is the founder of Kii, which offers a mobile backend-as-a-service product. Developers can incorporate the Kii SDK into their app, therefore reducing the need to hiring backend developers and letting the team focus more on user experience and business development.
#11:58: How does Kii measure up against competitors? Suzuki says that the difference is that Parse started its backend service relatively late in the game. Kii, as a Japan-based company with teams all over the US, Asia, and Europe, has the resources to help teams that want to take their app global.
#12:00: When founding the company, Suzuki intended to buy a source code that he wrote at his former place of employment, But this would cost him $6 million dollars. So he approached venture capital firms, but had no luck.
#12:03: It took some convincing, but Suzuki was finally able to get $1 million from a bank. Then, after bringing his current customers to the bank and confirming that his clients were happy, he was able to raise the remaining $5 million.
#12:06: Kii is also an investor in startups. Since app developers sometimes have a hard time developing their business due to cash shortages, Kii will occasionally invest in certain clients who he finds promising. If they continue to grow steadily, Suzuki will introduce the team to VCs he thinks might make a good match.
#12:09: Suzuki says that even before developers start noticing a real spike in traffic, they will reach out to Suzuki. The average size of an investment is about $200,000 to $300,000 – "Not the big money," Suzuki says.
#12:11: Suzuki believes the process for product creation goes as follows: make a new idea, analyze it, collect data, measure the data, and then revise the idea. The cycle will go on and on, and entrepreneurs should move through it quickly.
#12:13: What's Suzuki's main motivation for starting Kii? Suzuki says he simply wants to make a cool, high-performance product.
#12:17: Suzuki started his company relatively late in life. He says when starting his company, he waited until he came across an idea that fit his needs as an emerging entrepreneur before getting to work.
#12:19: Suzuki advises aspiring startup founders to focus on what they can do well. He also recommends that entrepreneurs focus on one single idea, and try to ignore all the other ideas that will cloud one's vision.
#12:21: And we've finished!
This is a part of our coverage of Startup Asia Jakarta 2013, our event running on November 21 and 22. For the rest of our Startup Arena pitches, see here.
You can follow along on Twitter at @TechinAsia, and on our Facebook page.
(Editing by Paul Bischoff)

Facebook Conversation
comments