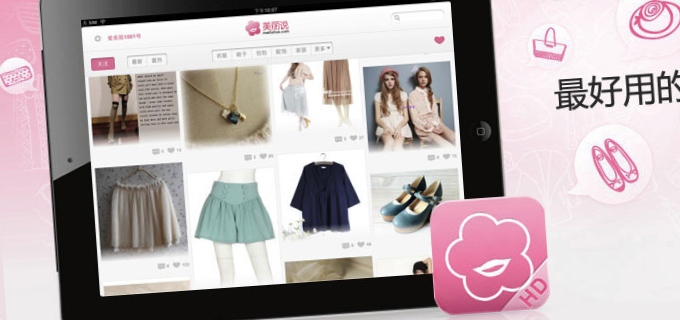 The Pinterest-like site Meilishuo, which claims to have 20 million users in China, has said that it has now had over 10 million downloads of its apps. Those all occurred from April 2011, when the startup social commerce site first went mobile, up to this month.
The Meilishuo.com site focuses very much on women, with Pinterest-style user submissions made into categories like shoes, handbags, and home decorations.
Out of all its 10+ million downloads, the site says it sees 51 percent of them coming back as monthly users. In terms of platforms, 59 percent are on the iPhone app, 31 percent on Android, and 10 percent on the dedicated iPad app. In a good sign that its users are monied urbanites, 3G usage on its apps surpass those on 2G by a long way – 25.1 percent versus 2.7 percent. The rest browse on wifi.
The biggest rival to Meilishuo in China is Mogujie, the very similar – and even more fancifully named – social pinboard site that we described earlier this year as a social commerce money machine. That's because Mogujie is – or was in April when it last talked turkey – generating over 100,000 RMB ($15,900) per day in ad referral clicks to Taobao, China's largest e-commerce site. On top of that, we hear Mogujie is headed towards a third round of funding that'll effectively value it at $200 million.
Meilishuo's model is nearly identical – nearly all its social pinboard users are driving traffic to their amateur shopkeeper stores on Taobao, as shown here: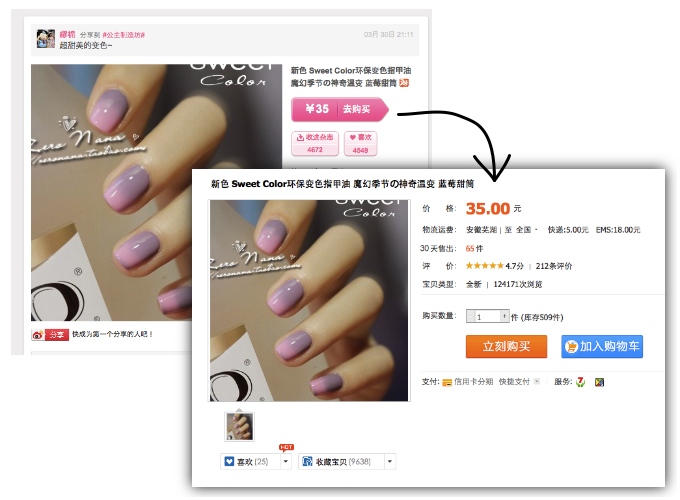 Unfortunately, Meilishuo is not revealing how much revenue it's bringing in from all those monetized clicks going out. But this site and several other female-oriented fashion pinboard sites in China sure are showing Pinterest how to do social commerce.
Get the Meilishuo apps for iPhone, iPad or Android via its homepage.
[Source: Sohu IT - article in Chinese]

Facebook Conversation
comments