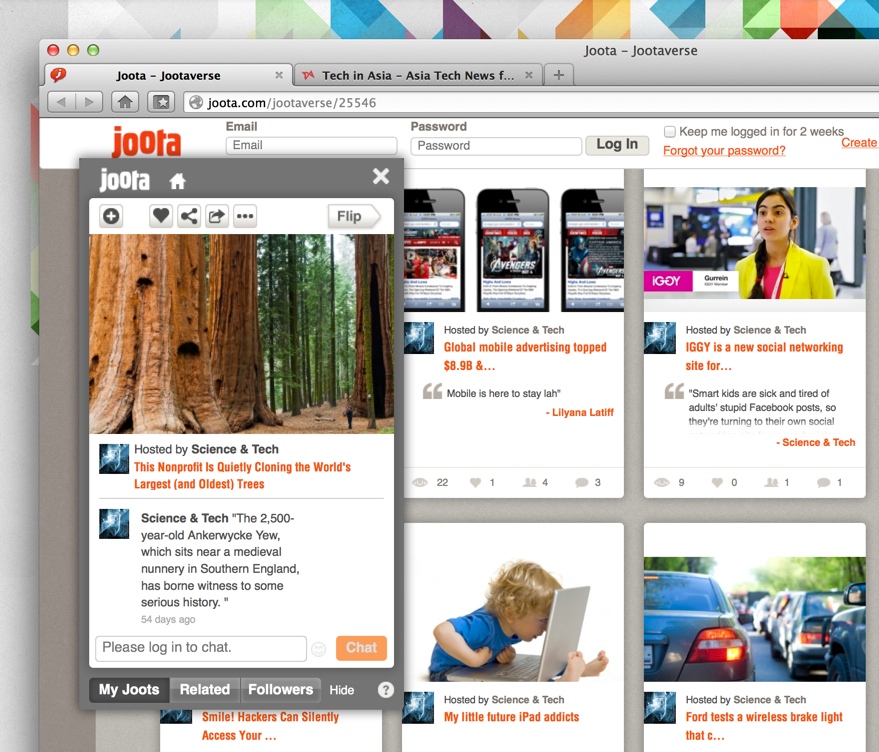 Based out of Malaysia, Joota is a social network for content that aims to give people and businesses the tools to make meaningful filters and connections out of the web's information overload.
Over the weekend, Joota revealed it has a new $700,000 round of funding to boost its site and global marketing reach. $500,000 came from a Dubai web company, with the rest from angel investors. Joota has now raised about $1.6 million in total. The startup has a sales team in Malaysia and the US.
User acquisition could be tough for this social content network outside of enterprises. I don't think there are many people in the world who have thought to themselves, "I know, I really should build meaningful social networks around content." But that is Joota's proposition to users. Indeed, it's the site's tagline. I already have a great social network where I follow interesting people, in a large part based on the quality of the stuff they share – it's called Twitter. And Flipboard works great as a sort of extension of Twitter for me.
Joota COO Ashran Ghazi explains the plan to get people on board:
We imagine that the first phase will be driven by the business community, especially SMBs who wants to engage better with their customers and followers. Having conversations via sharing of relevant content to your customers and not spamming them is something that is lacking in social networks at the moment. We believe the business community will show other users the benefits of sharing and discovery of other content and people.
The social site is accessible only via a browser, where it takes the form of cards full of content (pictured top), looking a bit like Pinterest, except that the image links to the pinned story. That's where you also favorite content that interests you, or bookmark it, or begin a conversation based on the article. In a way, it's like the Flipboard browser experience that Flipboard is missing.
(Editing by Paul Bischoff and Terence Lee)

Facebook Conversation
comments