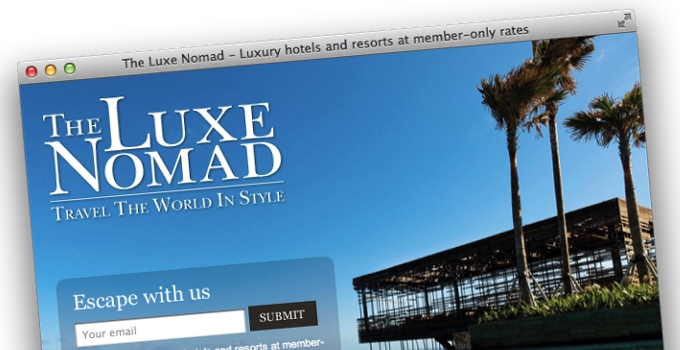 At the Echelon 2012 conference yesterday, Tigris Capital and Spring Seeds Capital announced their investment in Luxe Nomad, a Singapore-based luxury travel startup. The concept works like many VIP, invitation-only, flash-, and time-limited sales sites. But instead of luxury goods, the flash deals focus on luxury travel deals. Details of the funding haven't been disclosed.
The startup was founded by Stephanie Chai, a model-turned entrepreneur who wanted to start something on her own. She was inspired by her grandfather and father who were also entrepreneurs. At the event, Stephanie recalled some early entrepreneurial experiences from her school days:
I remember when I was 11 we had a competition to come up with a business idea and I sold brownies to my classmates. I enjoyed it so much that I kept selling brownies even after the competition was over… haha! So I would say that with some dreams – you're simply born with them.
The concept of Luxe Nomad was also largely influenced by her interest in luxury hotel flash sales. Stephanie even went for courses to understand the travel market better.
So what exactly is luxury travel? The term is subjective but Stephanie explains that it covers four- to five-stars hotels. But it could be a boutique hotel because luxury is such a subjective word. The key is to give consumers a choice and chance to enjoy this luxury. Luxe Nomad makes money through a revenue-share agreement with hotels across the world, though Stephanie is tight-lipped about the exact revenue-share ratio.
I loved the whole concept of luxury hotel flash sales which is doing very well in the States and Europe. What a clever way of pulling in customers by offering exclusive, time-limited deals that you can't find anywhere else! And when I looked at myself and the world around me, I saw a growing number of people traveling on a whim and even on a monthly basis.
Locally in Singapore, Impulseflyer is a competing site that does the same thing.

Facebook Conversation
comments