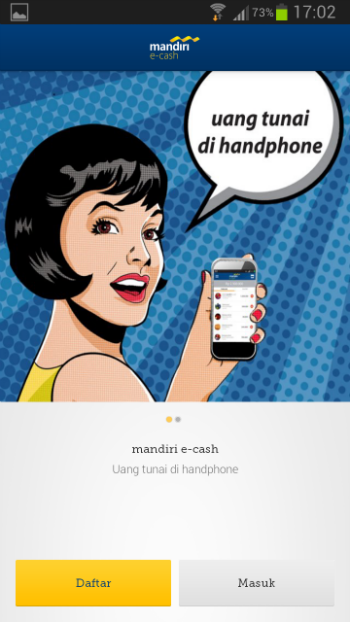 This new payment method from Mandiri Bank, one of the largest government-owned banks in Indonesia, is going to be a new favourite. I think the Indonesian market is ready for this. It's called E-cash, which means that your cash is in your phone. If you have a phone, either smartphone or feature phone, you can use Mandiri E-cash, even if you are not a Mandiri customer yourself.
We noted recently that Indonesia has low e-banking penetration with debit card penetration just hitting 11 percent. The society tends to favor cash-on-delivery and other payment gateways that require cash.
Branchless banking system
E-cash wants to solve this problem by creating a branchless banking system. This works similar to WhatsApp banking, where you use your phone number as your account number.
First, the user registers on the E-cash smartphone app1 or through Mandiri SMS (*141*6#) from a feature phone.
Top-ups can be done through a Mandiri ATM (using Mandiri or other partnering banks' debit cards), Mandiri SMS (*141*6# from your phone), Mandiri's website, Mandiri Clickpay (only accessible to Mandiri customers), money transfer, or at retail shops.
Welcome to cashless payment
In the app or through Mandiri SMS, E-cash can be used to buy phone credits or electricity vouchers, shop online, and even for physical transactions in stores. Money transfer and cash withdrawal is also available to users who upgrade their accounts for free.
As a payment gateway, users will receive an OTP (one time password) after they input the amount of payment. This OTP is given to the cashier (physical store) or to the website (online store).
Another local bank, CIMB Niaga, used the same concept this year with Rekening Ponsel. The difference between these two is that E-cash can be used as a payment gateway for online and physical stores, while Rekening Ponsel can be used for utility and internet bills, plane tickets, credit card installments, etc.
Retail shops as a third party
User can top up at retail shops by depositing cash at the cashier. Any retail shop can register itself to partner with Mandiri. I asked for the list of retail shops so far, but Mandiri isn't disclosing the data yet.
This third-party system (or "Unit Perantara Layanan Keuangan" in Bahasa) is still in a trial phase in cities outside Jakarta because the number of ATMs is fewer. The trial takes place in Bandung, Cirebon, Indramayu at West Java, Ogan Komering Ilir and Ogan Ilir at South Sumatra.
(Editing by Paul Bischoff)

Facebook Conversation
comments