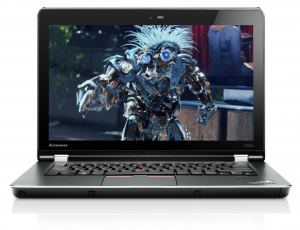 We recently wrote about a number of Chinese brands that had made their way into the new Transformers movie. Notable among them was PC maker Lenovo, whose ThinkPad Edge Plus laptop is actually a Transformer itself. The character is one of the good guys, an Autobot named Brains.
It's an interesting marketing effort on the part of Lenovo, as the company's senior marketing communication manager, Song Qi explained:
Product placement in Transformers: Dark of the Moon is part of our global branding strategy and a big step towards our further international expansion. This film really resonates with Chinese audiences as many people that grew up watching the Transformers cartoons also represent the ideal ThinkPad customer.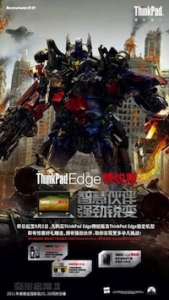 Didi Zhang, the entertainment and marketing director of Ogilvy & Mather Beijing, noted the importance of integrating the product into the story:
From the start, we didn't want the ThinkPad Edge Plus to be obtrusive or distracting; our goal was to make it relevant to the movie so that it would be memorable to viewers.
Indeed China has a pretty intense love-affair with the Transformers franchise, and evidence of this is springing up in cities around the country — namely in Wuhan and in Changchun.
As much as I like the idea of a laptop Transformer, I can't help but wish that Soundwave, the deep-voiced cassette deck Decepticon, had made it back into the film in his original form. But I guess these things have to be modernized, and bringing in a laptop character does make sense. Check out Lenovo's promo video featuring Brains below.
Transformers 3 opens in Chinese theaters today. If you do check out the film, keep your eyes peeled for Brains.

Facebook Conversation
comments