Lean Startup Machine held a dual three-day event in both Beijing and Shanghai over the weekend. This was Beijing's second time to host LSM, this time in the new Tech Temple co-working space.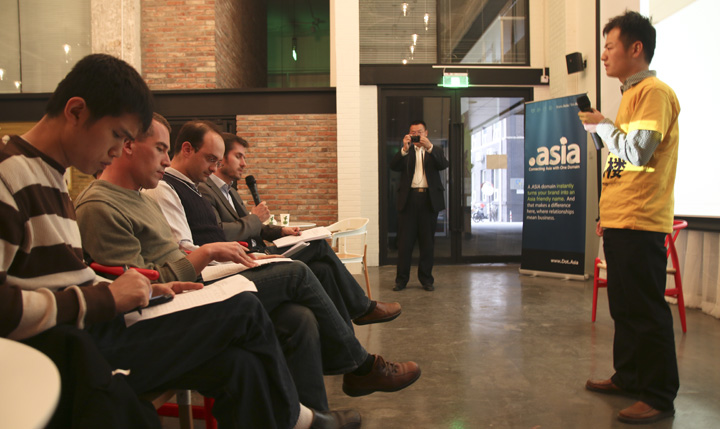 The format for LSM is similar to a weekend hackathon, but instead of building a product, the six teams in Beijing tested their assumptions as they pertain to customer development. They start by identifying each team's biggest risk assumptions – the biggest and most uncertain assumptions about who their customers are and what they want. Then each team writes a short survey and heads out to interview whoever they think their target audience is. Common questions often include, "Would you buy this?" and "How much would you pay?" If the answers don't satisfy, the team must iterate either their product or their target customer.
LSM brings in local volunteer mentors to guide the teams throughout the process. At the end, each team must present their findings to a panel of four judges, three of which were local VCs.
None of the teams had a working product yet. LSM is designed to test if an idea has legs before investing too much time and money.
That said, top prize went to Babahe, a subscription service that periodically sends customers cosmetic care packages – a small box full of samples from different cosmetic brands. The business model is fairly common in many developed western countries. The team narrowed their target audience down to affluent Chinese women in their 20s. They also discovered that Chinese women prefer skin care products over make-up. They received a positive response from their other customers, the cosmetic brands. While not necessarily the strongest startup overall, the team accomplished the most as far as LSM's goals are concerned. They made the most iterations and seemed to have learned more about their customers than the other teams throughout the process.
Runner-up went to Milefo, the goal-based savings app that took home first prize at last weekend's Beijing Tech Hive hackathon. The team tested the assumption that young male Chinese bachelors are under the most financial pressure to save money for homes and cars. While the pressure certainly exists, their research actually led them to discover married couples with kids or with kids on the way actually feel even more pressured. They also learned that, despite popular perceptions to the contrary, Chinese people are not very private about their financial goals, in general. That gave the team more confidence in the app's social sharing functions.
LSM holds events in 40 cities worldwide, including Shanghai, Singapore, Hong Kong, and Tokyo in Asia.
(Editing by Steven Millward)

Facebook Conversation
comments