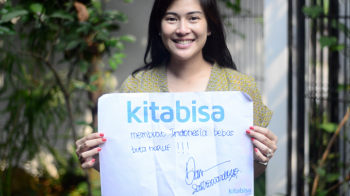 Indonesia's crowdfunding sites are in an okay state – it's not awesome, nor is it that bad. While there aren't a lot of new projects being pitched, we're still seeing a few projects successfully gather tens of millions of rupiahs. Crowdfunding is something still very new to Indonesians, and it has its own challenges in educating the users about how the platform works. The latest one to take on the challenge is KitaBisa (means "we can"), a crowdfunding site for social projects.
KitaBisa had a soft launch in June and has already raised quite a few eyebrows. The startup launched an introduction video showing a few national celebrities like Dian Sastro (pictured above), Andi F. Noya, and Pandji Pragiwaksono promoting the site to users. A crowdfunding site for social causes, users can help by giving money, volunteering, or sending in their ideas to the project team.
KitaBisa offers a twist on the "all or nothing" scheme by Kickstarter or "keep everything" from Indiegogo. Project creators can set their own "pessimistic budget." If the project crosses that budget, then the creator can keep the pledged money. But if it doesn't pass the limit, then the money is returned to users.
Choose your preferred social projects on KitaBisa
Right now the startup has five campaigns in progress, as well as two successfully funded projects so far. Included in the active projects are a free school in Depok, a facility to help the eucalyptus oil business in Buru island, and a social project to empower unemployed housewives to create and sell handmade crafts.
The successfully funded projects include giving parcels containing primary food ingredients to people who have suffered leprosy during Ramadan month and charity projects for those in need. The former raised IDR 8.5 million (US$748) and the latter raised IDR 76 million ($6,687). Just like any crowdfunding site, KitaBisa projects offer some incentive for users, including a sincere thank you from the donation target group.
Connecting changemakers online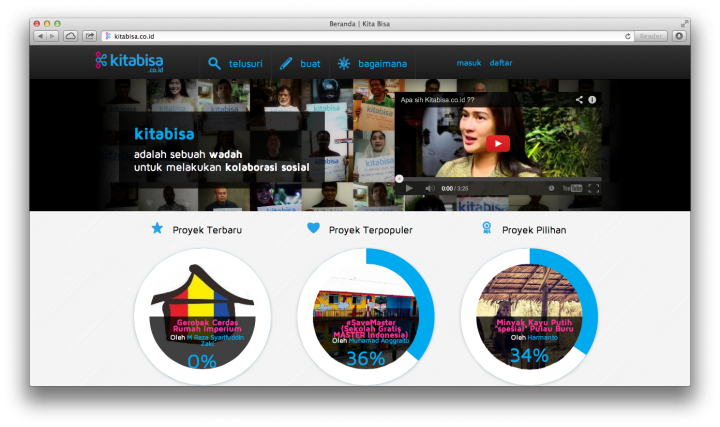 Founder Alfatih Timur says he built KitaBisa because he wanted to create a medium to connect people with resources to the ones in need. He has seen his share of volunteer and changemaker works and believes Indonesia has an ample amount of people who want to make a difference in the social sphere. They just need a medium to do so, and this is where KitaBisa comes in.
Timur says his mentor Rhenald Kasali helps a lot in the startup's development. Kasali is the head of a social entrepreneurship association in Indonesia. He helped connect KitaBisa with the aforementioned celebrities. Together, they promote the KitaBisa platform to their friends.
KitaBisa filters projects based on a few criteria, like impact, location, creator, and feasibility. Currently the platform only accepts bank transfer from BCA and Mandiri banks, but Timur plans to develop the payment system further to ease the hassle for users.
Payment hassles
Interestingly, Timur says a handful of users prefer to make donations without logging into the site. They call KitaBisa's team and ask how they can transfer their money. This is one of the things Timur wants to educate to users about: it's better for them to donate after they register so users and flow of money can be traced easier and more transparently.
There's also the classic challenge of getting users to trust the platform. So far, because the two funded projects are friends of Timur, he can monitor project progress quite well. In the long run, he will require project creators to send in reports of how they are using the money and project progress. One of the reasons behind using celebrity endorsements is to generate trust.
While KitaBisa will eventually take the typical five percent commission out of successful campaigns like other crowdfunding sites, the team hasn't taken any so far. They are still at the early age of promoting the site and gaining traction.
KitaBisa bracing for a big social project
In the next two months, the KitaBisa team is looking to host a big, undisclosed project that will need as much as IDR 550 million ($48,394) in funding. If successful, the team can use the momentum to fully launch KitaBisa.
That will happen after KitaBisa undergoes some modifications to its layout and payment system. The startup is open to collaborations; they believe that they can create a better Indonesia faster by working together.
Besides KitaBisa, other notable crowdfunding sites available in Indonesia include Wujudkan, Patungan.net, and Bursa Ide.
(Editing by Paul Bischoff)

Facebook Conversation
comments