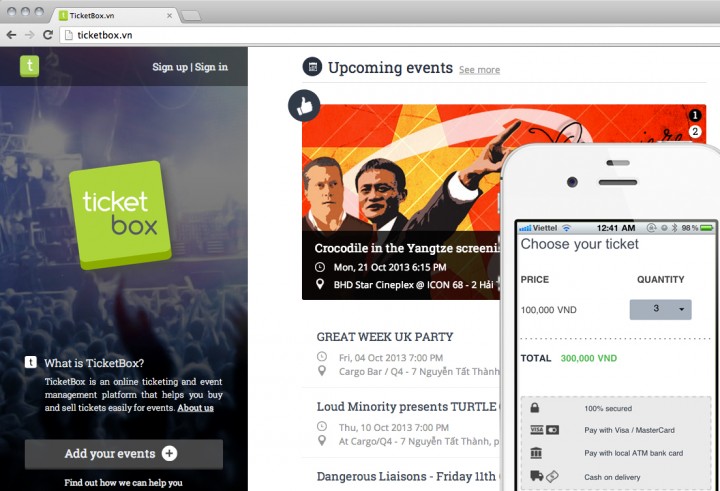 Some of you may remember Keewi. It's an event ticketing service that some consider to be the Eventbrite of Vietnam. Since launching in mid 2012, according to CEO and founder Mike Tran, Keewi has hosted over 500 events.
Today, Tran announced that Keewi will heretofore be known as TicketBox, as part of a branding revamp.
Tran says that the rebranding is part of Keewi's strategy to grow beyond its startup origins.
One the reasons that made us to do it is we want to look beyond the startup community. We want to look at entertainment events, sports events, the expos, the bigger picture outside of the startup market that we've been familized with. As a ticketing company, we would need to approach those bigger markets in order to grow, and also we need to focus growing the consumer base – ticketbox.vn is a lot easier to remember than keewi.me when you think about buying a ticket.
Keewi, which launched during Startup Weekend Ho Chi Minh city in 2011, has pivoted its focus several times but has always stayed centered around events. Many of the folks in Vietnam's startup community know Keewi since it also organizes the local Start Me Up events that bring movies and speakers to the startup community.
Currently, in the ticketing space, there are a few competitors including VNTIC. That company has been in the entertainment space longer than Keewi, and also is interested in airline ticketing and entertainment in international markets. Keewi is considerably more focused on doing just events, but it's watching other verticals:
I think right now, events are where we have our knowledge and understanding of what the customers really want to build effective solution for it. There are other startups doing bus/train or airplane tickets that are still in very early stage. We'll keep an eye on how the market grows and behaves.
Before the name change, Keewi was averaging four events per week on the platform. Tran is hoping to grow that with the name change to Ticketbox.
(Editing by Josh Horwitz)

Facebook Conversation
comments