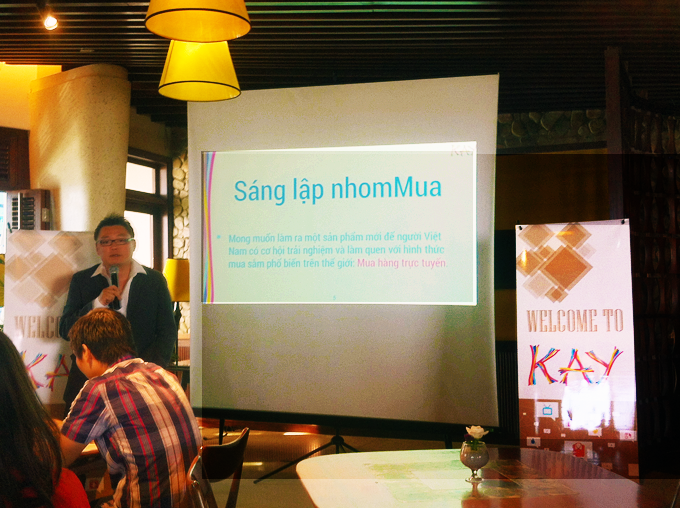 You may remember that we covered a tiny little rumor that Tom Tran, former CEO of Nhom Mua, was launching a competing new daily deals site called Kay. Well, today, Tom's officially launching Kay.
At today's press conference, Tom went into great detail about his path in MJ Group with the big properties like Nhom Mua, Diadiem, and Yume. Nhom Mua, which became the center of Vietnam's biggest web controversy in 2012, is the biggest group buying site in Vietnam. At last count, according to Tom, it secured 60 percent of the deals market share. Diadiem, Vietnam's biggest online location site, which Tom claims supplied Google with the majority of its location data in Vietnam. And Yume, is a news portal. When the scandal in late 2012 hit Vietnam, Diadiem and Yume split off from Nhom Mua along with Tom.
If this feels like Return of the Jedi to you, you're probably right. Tom is ready to take on the current crowded e-commerce and daily deals market with Kay, in a model he says combines e-commerce and group buying.
A new group buying e-commerce format for Vietnam?
With current daily deals models in Vietnam, they basically sell vouchers for products at increasingly cheap prices to consumers who wait and hunt for good prices. This has hurt merchants who have become dependent on throwing cheap vouchers at such sites. It's a concern that I've long thought was the key shortcoming of Groupon, and why Tom believes that many Groupon clones rose and fell in the Vietnamese market. The model was basically unsustainable.
Central to Tom's new model is Kay actually keeps inventory while also delivering coupons. Thus, a consumer will get to Kay via a coupon they saw on a marketing channels, but may end up buying other stuff that isn't discounted. According to Tom:
Group buying sites these days are basically time-based and force the consumer to wait or hunt for discounts when they are available. But this is not the natural way that consumers act in the real world. When you go to the supermarket, you may go with the intent to buy a discounted item, but you end up leaving with a few or a bunch of items that you saw along the way.
Thus, Kay aims to simulate the natural shopping experience. I enter Kay because of the discount, but I leave with other purchases that may or may not be discounted. Kay can do this because of the logistics system that they've built from the ground up. They may have a red T-shirt on sale but after a customer sees that they prefer the blue one, they may end up buying that one. And that blue T-shirt is in Kay's inventory. Kay basically keeps stock in its own warehouse while also having cheap deals. Tom insists that this model is difficult for other big group buying models, like Nhom Mua and Cung Mua, to copy because they would have to rework their entire logistics.
Another perk that Kay is hoping to deliver on is getting all their packages to people within 24 hours. Something Tom claims very few e-commerce and group buying sites can do in Vietnam now, but something I'm sure that is already available via GHN's current delivery services.
Since its silent launch, Kay has already hit over two million page-views per month and 130,000 unique visits per month. That's a huge number for an early start and Tom confirmed that this is because he has been able to leverage the properties of Diadiem and Yume for contacts from before as well as pushing marketing channels like Facebook. But according to Tom:
Getting users and pageviews is actually very easy, that's not the issue here. When you look at online advertising, there's two ways of getting your name out there: for branding or for conversion rate. Branding is good if you just want to get your name out there, but what I pay attention to is conversion rate. How many people are clicking on the site and then end up purchasing something? Getting that conversion rate from 5 percent up 40 percent is the hard work, and that's what our model is seeking to do.
Forgetting the past and moving forward
Of course, Kay is having to deal with the bad media flack from the Nhom Mua deal, so that's why Tom is concentrating hard by beta testing and generating value. Kay's got 100 people on the team, including the Diadiem and Yume folks, where they can cross-post deals. Currently, Kay is self-financed by Tom, and after Kay is stable he may look into investment – but that investment will likely be from Vietnamese investors instead of outside investors who may be skeptical of him following the Nhom Mua scandal.
Personally, I'm pretty skeptical of daily deals sites, so it'll be interesting to see, in the next few months, how Kay fairs with getting customers buying their inventory.

Facebook Conversation
comments