Photo apps are huge in Asia. Aside from Facebook-owned Instagram, there are a number of Asian startups that have created their own photo apps. Here's another from Japan called Kawaiit.
The name is from "kawaii", which means cute in Japanese. The app is basically a photo-sharing service with a voting functionality. The idea is for users to share cute photos. As with Instagram, photos can be edited with filters. It has other functions such as crop, rotate and even shape brushes, such as hearts or stars.
Vote it up
Kawaiit users can browse these shared photos in the iPhone app. Below each photo, it will show the question "kawaii?" and users can vote yes if they find it cute, or pick no or neutral. People can also leave comments on your photos.
Users can also filter their browsing of photos into 18 categories. The ranking tab also shows the photos with the most yes votes, which is displayed as a weekly ranking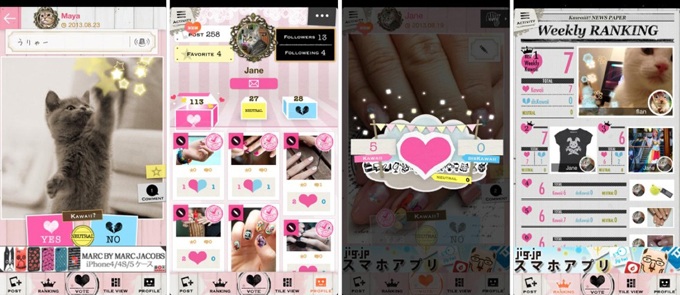 App for the ladies
The Kawaiit iPhone app (it works in English and Japanese), designed with a pink-themed interface, targets teenagers and 20-something ladies who love to share photos. However it's not linked to Facebook and Twitter to follow and invite friends. Users of the app can only invite followers via email at present.
The Kawaiit team says the app will be further improved with more functionality, more Asian languages, and on other platforms like Android.
With 750 million users of top social media sites across Asia, integrating it with social media sites to invite friends, or to share photos and in turn getting more votes, may give Kawaiit a boost.
Kawaiit app is available for free on iOS.
(Editing by Steven Millward)

Facebook Conversation
comments