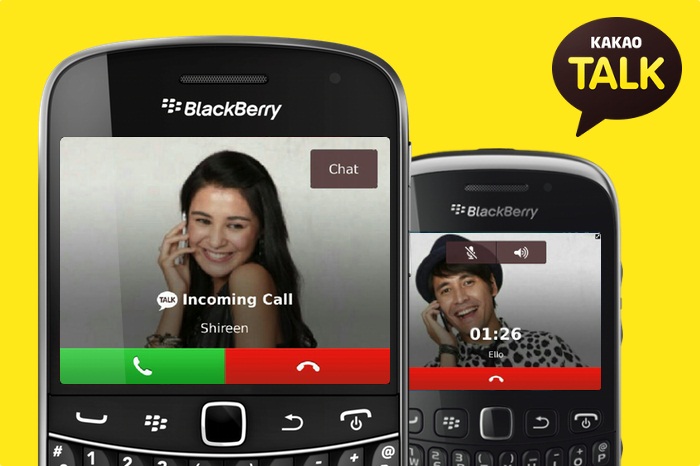 Indonesia is a hot battleground for chat apps: according to a recent report from Nielsen, four out of the top five "most engaging" apps in Indonesia are messsaging apps, with BBM, WhatsApp, Line, and WeChat clocking in at second, third, fourth, and fifth places, respectively. Korea-based KakaoTalk doesn't even place in the top ten, but that's not stopping it from continuing to invest in the Indonesian market, as evidenced by its latest feature addition.
KakaoTalk now offers a free voice-calling function to BlackBerry users in Indonesia. The feature is available for OS5 and OS7, which are the most popular BlackBerry operating systems in Indonesia. This excludes BlackBerry's newest handsets, the Z10 and Q10, which run on BlackBerry 10 OS.
The voice-calling feature is exclusive to KakaoTalk for BlackBerry in Indonesia. In other countries, KakaoTalk for BlackBerry does not have this function.
Some readers might question why Kakao would continue to invest in an ailing hardware device within one particular market. But the move makes sense in light of Indonesia's current smartphone market.
Indonesians still use their BlackBerrys
There are 15 million BlackBerry users in Indonesia, and the same Nielsen study reports that BlackBerry Messenger is still the most popular chatting app in Indonesia. The remnants of the BlackBerry empire remain here, and there will still be a lot of Indonesians buying affordable BlackBerry handsets with its legacy OS. BlackBerry will definitely want to keep that trend going with its launch of a BlackBerry 7 handset a couple of days ago in Indonesia.
In comparison, with the exception of BBM, most chat apps on BlackBerry are low-quality compared to their iOS or Android counterparts. Line and KakaoTalk offer only standard stickers. KakaoTalk is not the only app that offers the free call feature at the moment. BBM and Viber offer the same voice calling function, but the former only works over wifi, while the latter isn't that well known in Indonesia. This new feature alone on KakaoTalk is a huge differentiator, at least compared to popular chatting apps in Indonesia like Line and WeChat.
Will people give this a try?
There are two concerns regarding KakaoTalk's latest move now. First is whether the free calling feature can work well on BlackBerry phones – as the device tends to be quite laggy and hangs. Second is whether this feature will entice people to try using KakaoTalk. A lot of Indonesians have an informal policy regarding their BlackBerrys now: you do not install or use apps. Some of them have even given up using BlackBerry Messenger already because of the serious lag problem.
In the past, other app makers have taken advantage of the untapped BlackBerry market in Indonesia and found success. PicMix, the Indonesian photo app (which recently partnered with KakaoTalk), initially launched in 2012 as a BlackBerry-only app, but since then has accumulated 13 million registered users and spread to Android and iOS.
KakaoTalk for Blackberry can be downloaded here.
(Editing by Josh Horwitz, Paul Bischoff, and Steven Millward)
Have Your Say!