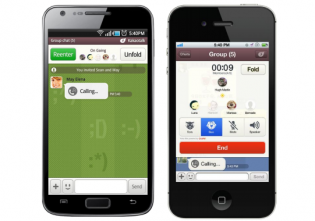 After a day of testing the service to ensure call quality was good enough, Korea-based Kakao announced today that it has launched what it calls the world's first HD voice free mobile group Call service. In English, what that means is this: Kakao Talk now features group voice chat with high quality audio for up to five participants, and it's all still free. Users can even make group calls over 3G or LTE connections, and Kakao claims that even with the high quality audio, this won't make a huge dent in users' monthly data allotment.
Kakao Talk is a chat app that already has 66 million users worldwide, and distinguishes itself from competitors in part with the voice filters users can apply to their voices while using the app to chat. The new group call feature also allows for voice filters, and users who connect to a conversation can then disconnect and reconnect at their leisure, so long as at least one or two of the other parties have remained on the line. It is these two features (the voice filters and the ability to re-connect) that Kakao calls "world's first," and while that's a bit nitpicky — some apps have similar features even if none have yet implemented all of them them into a group calling feature — it's still pretty cool even if it isn't quite as revolutionary as Kakao would have you believe.
The Kakao Talk app is available on both Android and iPhone, and the group call feature is already in place, so if you're looking to chat with friends using weird voice filters, today is your lucky day. I haven't gotten the chance to actually test the group calling feature yet, but perhaps we'll use this instead of Skype the next time all the Tech in Asia editors are doing a group call!

Facebook Conversation
comments