A new report from the folks over at NPD DisplaySearch says that 27 percent of all televisions shipped in Q1 2012 had some internet capabilities, led by Japan with 46 percent of its TVs shipped having such functions, and followed by Western Europe.
The report adds that 20 percent of televisions shipped globally were 'smart TVs,' which it defines as a set that can access a branded portal or service, rather than just publicly available platforms like YouTube. Of all regions that the report looked at [1], Japan again shipped the highest percentage of smart TVs with 36 percent, followed by China with 30 percent.
The director of TV electronics research of NPD, Paul Gray, noted that since Chinese users have so much content to watch online, that "internet connectivity [on TVs] follows." He added:
There are countries in emerging regions where mobile broadband far outnumbers fixed lines, so consumers are looking to share mobile content on a big screen.
As you can see in the chart below, China had far more smart TV shipments than any other region worldwide, with nearly 3 million. The report notes that Chinese New Year likely contributed to this result, but given the margin by which it leads, you can expect Chinese to continue to be leading consumers in this space.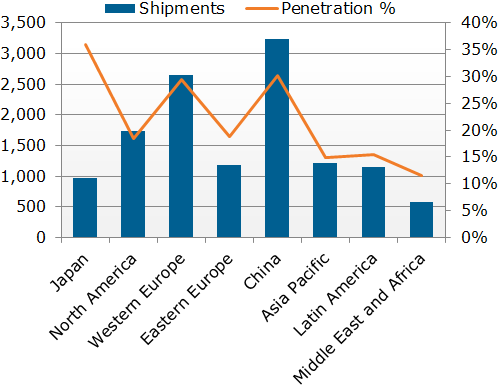 [Sony image: Japan Today]
---
I confess, I'm not sure why Japan and China are singled out as regions to be compared with North America, Western Europe, or the Middle East and Africa. But sure, I'll go with it.  ↩

Facebook Conversation
comments