We've seen online marketplaces pop up that help people find designers, home-cooked food, real estate, and lots more. Here's a new variation on the theme: Japan's iSitter helps you get a babysitter.
iSitter launched last week, aiming to take a slice of what it believes is a $210 million per year babysitting market in Japan. As with other marketplaces on the web, both interested parties sign up, and all that crowdsourcing magic helps the parents find a reliable babysitter.
As noted by The Bridge team [1], there are significant security concerns in letting a stranger look after your kids for the evening, so the iSitter site makes people sign up with their Facebook account. Of course, any lunatic with a web connection can sign up for Facebook, so iSitter does background checks on newly registered babysitters so that the real-name is verified, but there's seemingly no guarantee that your sitter won't have a criminal record.
This Japanese startup is similar to America's UrbanSitter and countless other such sites around the world. But iSitter faces a few unique obstacles in Japan, such as the lack of a babysitting culture (hence the prevalence of 'latchkey' kids) in a relatively safe society. Plus, Japan's aging population means that the addressable market is shrinking.
iSitter is free to use but takes a cut from each babysitting session it helps organize. An optional monthly fee will be tested out in future for regular customers. The startup is aiming at signing up 3,000 parents and 200 babysitters in its first year.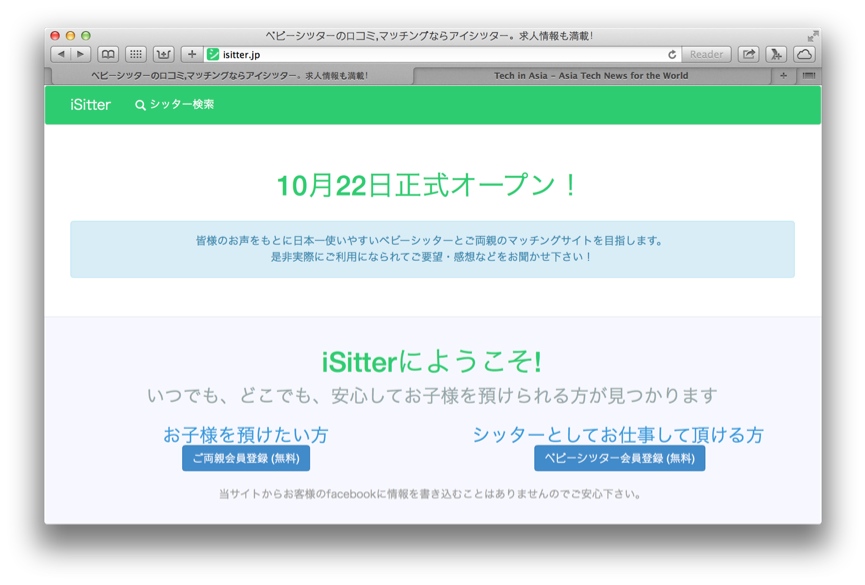 (Source: The Bridge)
(Editing by Josh Horwitz)
---
The blog formerly known as Startup-Dating.  ↩

Facebook Conversation
comments