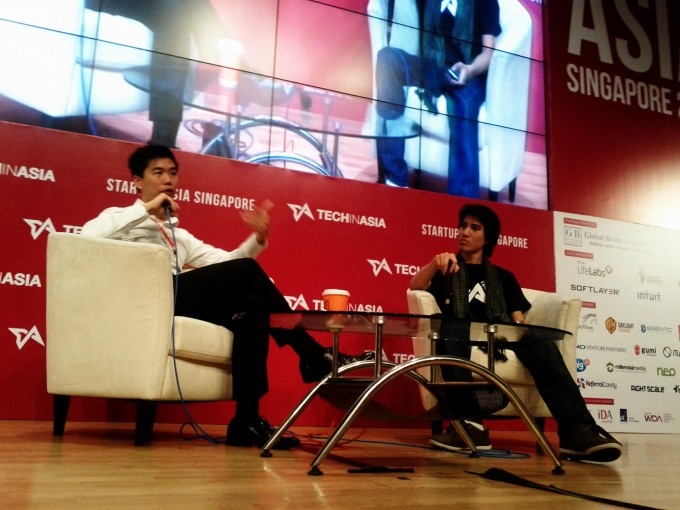 We've seen US-based vacation home rentals site Airbnb pushing into Southeast Asia recently, so Jia Jih Chai has some 'splaining to do. He's the managing director at Airbnb Southeast Asia, and he's now onstage being interviewed by my colleague, Minh. Here's the liveblog:
#10:06: Where are the Asia hotspots for Airbnb users? They love Bali. Also, users are keen on unusual experiences, like a treehouse rental in Thailand's Chiang Mai. Jia Jih himself has tried out rentals all over Asia.
#10:08: Jia Jih says there was no big idea behind Airbnb's vision – like collaborative consumption or anything – and it was really just about solving a problem.
#10:09: How does Airbnb ensure security? After the 2011 case of a home rental being trashed in a rowdy party, the startup has added home guarantees – for up to $1 million. But it's not yet rolled out in Asia. But the site does connect with social networks to ensure the real identity of users.
#10:11: Next Airbnb is focusing on experiences rather than huge numbers of places or users in Asia.
#10:12: They're hoping guests will transform into hosts (listing their homes) in Asia. So they'll spread by word-of-mouth in Asia just as they've done before. They have four million guests so far – three million in 2012 alone.
#10:13: Jia Jih: "We've been global from the start."
#10:14: No plans for acquisitions so as to expand in Asia – ie: not buying up new, local rivals like Travelmob.
#10:15: Local challenges: payments, credit card limits, and diverse languages.
#10:16: No plan to offer cash-on-demand (COD) in Asia, he says.
#10:17: Airbnb, he emphasizes, is focusing on new properties and experiences in the region. So the focus will be strong areas like Bali and Koh Samui.
#10:18: In Asia, the team needs to focus on persuading people how different the experience on Airbnb is – how it differs from hotels. So a local spot that needs attention is user education.
#10:20: Jia Jih gives the example of his own stays with Airbnb, where home-stays are personal; it's a contrast to the distrust of hotels and the front-desk check-in. He says that hosts care about your stay and about you as a person. So Airbnb is about connections.
#10:21: A big difference in Asia is that hosting makes a real difference in terms of income for many Airbnb hosts in Asia. For example, one Airbnb host makes $60 a week from the platform and that guy uses it to educate his five kids.
#10:23: That's the live blog over. Thanks for reading.
---
This is a part of our coverage of Startup Asia Singapore 2013, our event running on April 4 and 5. For all our newest Startup Arena pitches, see here. You can follow along on Twitter at @techinasia, and on our Facebook page.

Facebook Conversation
comments