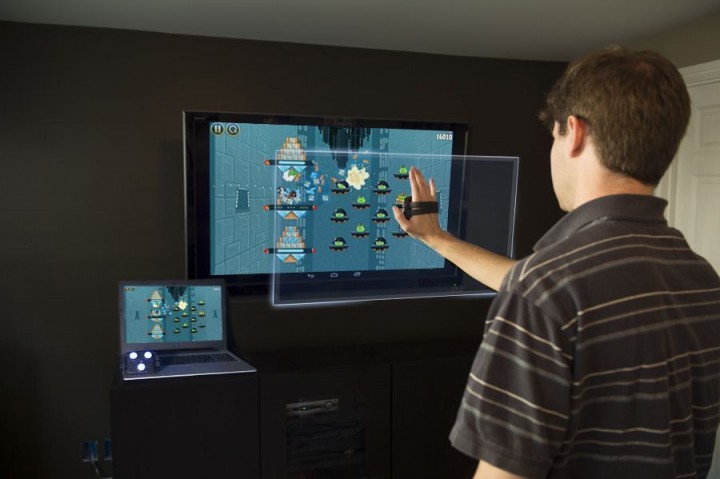 Remember the movie Minority Report back in 2002, where Tom Cruise uses this futuristic controller to move things around the projector screen? This will be a reality later this year and it may be even better than the movie's gizmo.
Singapore-based Intellect Motion is launching a wireless motion gaming device called the IMotion that allows you to play multiplayer online games without using a mouse or keyboard. The device can be use for gaming, web browsing, and some apps. All you need is a standard web camera, the glove-like IMotion device and a toolkit for control setting. The IMotion – which will soon be seeking crowdfunding on Kickstarter – captures full 3D body movements at over 30 frames per second with an accuracy of 0.2 cm – 10 times more accurate than Microsoft's Kinect 1. With just a wave of your hand you can scroll, swipe, grab, flick, duck, jump, crouch, run or shoot, while the embedded sensors deliver a constant stream of physical feedback.
I got a demo at Intellect Motion's office at the new co-working space at Blk 71, Singapore's hub for early-stage startups. Some calibrations need to be done before using the device, quite similar to the Xbox Kinect's calibration. I tried the device on a first-person shooter and an Angry Birds game. I noticed some lag in the movement and its shooting function, but the device is still a prototype, and the CTO of the company Alex Khromenkov reassured me that the sensors of the cursor can be adjusted to be more sensitive and functions like a touch feedback sensor, which provides physical feedback on the device, will be included.
Alex told me that IMotion actually started off as a research medical rehabilitation application back in Russia, the founder ultimately decided to roll it out as an device for home PC and mobile usage instead. The founder and chief scientific officer at Intellect Motion, Vlad Lukashevich, quoted this:
We were watching Minority Report and started to wonder if the medical devices we were developing could be used for something similar. We soon realized that our devices had such a high degree of accuracy they were better than anything else out there. Plus, it's pretty cool making something from a sci-fi movie!
Seeking crowdsourced advice ahead of crowdfunding
Intellect Motion is currently looking for early adopters to help decide the future direction of its product design. They are holding a crowdsourcing competition from July 1st to 30th for its IMotion device to find out how they can better improve this technology and enhance the user experience. 10 people with the best ideas will be rewarded with an IMotion, and three of them will present their ideas to the Intellect Motion board.
The IMotion Kickstarter campaign starts sometime in August, targeting a $100,000 goal. This worked out well for fellow Singaporean startup Pirate 3D, makers of an upcoming 3D printer, which soared past its goal to raise over $1 million on the crowdfunding platform.
The funds the IMotion raises will mainly be for mass-manufacturing the product and marketing it. An early-bird $49 pledge will get you an IMotion at the cheapest price. The actual launch of the product is set to be December 15th this year.
Here's the startup's new demo video:
(Editing by Steven Millward and Enricko Lukman)

Facebook Conversation
comments