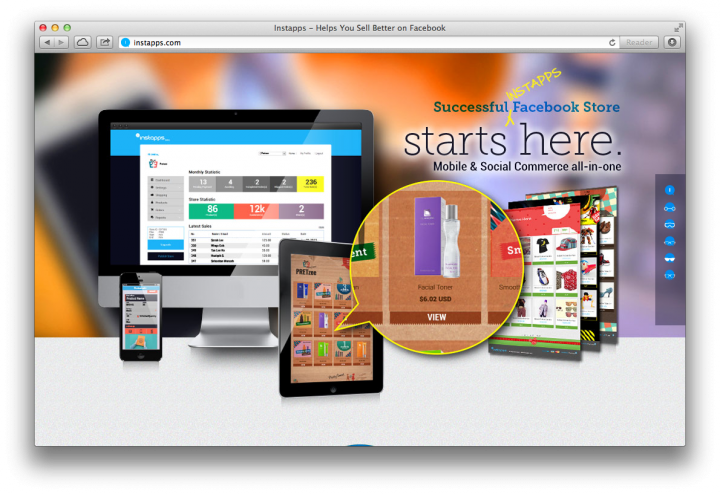 As we have noticed across the region, Facebook commerce is on a roll. Social commerce is the future. It's no wonder that in China, Alibaba also wants to pick up on this by getting closer to Sina Weibo. But outside of China, new Facebook friendly models are rising. For instance, in Thailand, Page365 is one such startup which helps to build a dashboard for Facebook commerce based on crawling text.
Instapps, from Malaysia, takes a similar approach to Facebook commerce. But instead of building a dashboard for people selling straight from their Facebook Page, Instapps helps customize full-on stores via Facebook's Apps platform. So instead of creating an e-commerce website, just make a customized store right on Facebook.
According to Jason Gan, founder and CEO at Instapps:
For Malaysia there are more and more online sellers choose to start with Facebook, and many do thrived selling on Facebook. But the growing pain eventually kicks in when the comments/PMs flood in like crazy, 24/7 non-stop, and sellers tend to miss some of them. It burns sellers out, and running a business on Facebook become sort of a nightmare.
Page365's model is to allow sellers to continue using their Facebook Page as their main e-commerce solution, but it builds a platform that allows them to manage the flood of requests and data that happens on the Facebook. The customer never sees this. Page365's software happens all in the background, all under the control of the merchant.
But Instapps is a solution that departs quite a bit from what Page365 wants to do. Instapps gets merchants to completely abandon their Page but allows them to continue with Facebook as the main platform.
Thus, as Jason says, it's much more convenient and customizable for the merchant:
Instapps is a DIY toolset for everyone to setup a full-functioning Facebook Store, and deploy in their Facebook page as an app. Instapps Facebook stores feature all functions a web-store has, including inventory management system, able to accept payments via PayPal or manual payment within Facebook environment, and many more. Sellers get to choose from 30+ pre-designed store themes, and able to give away discount codes to boost sales.
The origins of Instapps
Instapps all started as a side project of a digital marketing agency called Tribeup in 2011. Over time, the team slowly spun it out into its own customized package solution. By 2012, the project had pivoted a few times and eventually in 2012, the 7-person team got seed funding from a private investor and could release its 3.0 version.
Today, the company serves over 600 merchants and has helped in the selling of products to over 160,000 Facebook users.
(Editing by Charlie Custer)

Facebook Conversation
comments