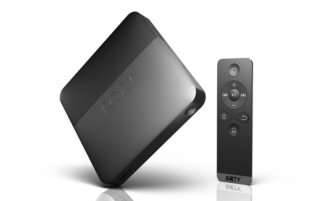 It looks like Xiaomi won't be the only company shipping shiny new set-top boxes around China this April. LeTV, which you may recall Innovation Works invested in back in September, has announced the C1S, a new set top box. The device is set to be produced by Foxconn, will cost nothing when picked up along with a 290 RMB ($44) half-year service subscription, and will begin limited preorders for the first 50,000 units next Tuesday via Sina Weibo. The devices will start shipping in April.
It's hard not to be reminded of Xiaomi, given that Xiaomi has been using limited preorders as a sales tactic for years and recently did a round of sales via Weibo, but it's worth pointing out that LeTV was actually in the set-top box game well before Xiaomi with products like the LeTV T1. In fact, the C1S is quite similar to LeTV's previous outings: it supports up to 1080p and can do HD, it runs on an Android-based OS, and the technical specs are pretty similar. What isn't similar is the price. The C1S free.
The reason for the low price is that LeTV is moving towards a paid services model where the hardware is provided to customers for free and then they are charged subscription fees for services. The base service price is 490 RMB ($75) per year and it's not going to be possible to get a C1S without subscribing to at least a half year of service, but it's likely that LeTV will also offer additional services for extra fees on top of its basic service as time goes on.
Separately, the company has reportedly signed an agreement with Foxconn that would see the Taiwanese manufacturer producing LeTV's Super TV in addition to the C1S. The agreement also prevents Foxconn from working with competitors on similar products.
(via Sina Tech)

Facebook Conversation
comments