This post is a part of our coverage of Startups in Asia (Singapore), Penn Olson's first tech conference. Our full coverage of the event can be found here, for our RSS feed, click here.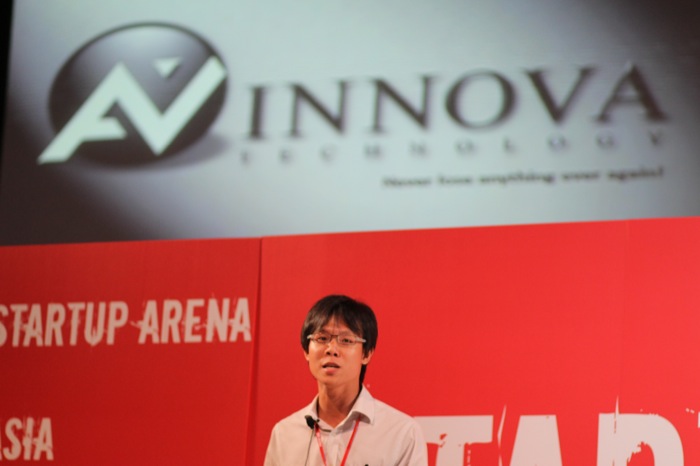 Innova Technology is a Singapore-based startup that's focused on a pretty common problem: losing stuff. CEO Rick took the stage at Startups in Asia (Singapore) today to explain how he plans to make losing things a thing of the past.
Unlike many of the Startup Arena companies, these guys make hardware; a wire-thin black card that CEO Rick says is "the thinnest anti-loss product on earth." The card syncs with your phone via bluetooth and RFID. To demonstrate, Rick tossed the card into his wallet and then walked away from it. When he reached a preset distance (customizable in the phone app that comes along with the card) the phone rang, reminding him he had left his wallet behind.
If he had missed the ring, he could also use Google Maps integration to check on the card's last recorded location later. However, since the card connects to the net only via a phone, you can't see live information about your valuables' whereabouts, just the location of where they were the last time your phone was near them.
The startup has already launched via IndieGogo, an American crowd-sourcing platform, and retails for $30 (Rick says the company earned over $10,000 in just a week of sales). The company says billions of dollars in goods are lost every year, so the potential market for a device like this is huge, and indeed, the card is small enough to go just about anywhere: in a briefcase, camera bag, or even taped to a child if you're worried about losing them in a crowded area.
In Singapore, Innova is looking at telecom operators, banks, and novelty shops as potential distribution centers and cooperative partners. The company is also looking to move production of the device to China, where overhead is lower.
It's too bad you can't track the card's location in real time, but a warning when you're walking away would prevent a lot of accidental losses, and probably even the occasional theft. Innova's card really is impressively thin, and it might just be a smart addition to your wallet once it goes on sale in Asia.

Facebook Conversation
comments