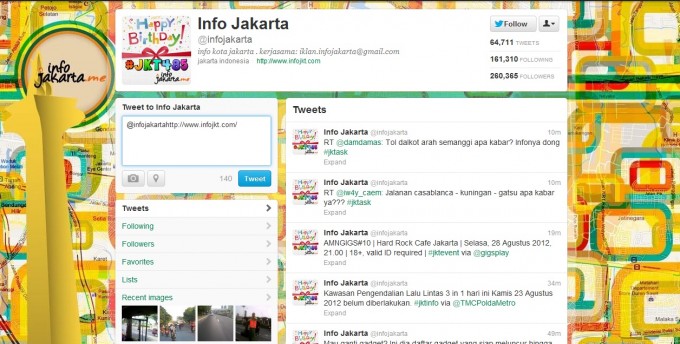 What can you do with 140 letters? A lot, reckons @InfoJakarta. The Indonesian city info specialist tweets virtually all topics and news about Jakarta, including sports, traffic, music, and even daily motivational quotes, all in 140 letters or less. We talked with the founder of @InfoJakarta, Willy Jonathan, about his reasons for using Twitter, and to discover his secrets to accumulating 260,000+ followers.
Willy, whose background goes back to his time in print media, explained that the reason he chose Twitter is not only because it is very similar to Blackberry usage (which is very popular in Indonesia), it is also a very friendly medium for mobile. Willy shared a few facts and figures about @InfoJakarta:
260,718 followers with a daily growth of around 400.
The followers then are directed to the newly developed InfoJakarta website, which sees about 5,000 daily visitors.
There are around 127,000 mentions of @InfoJakarta every month. So every 30 seconds there will be one mention aimed at @InfoJakarta.
Follower demographics are primarily university students and young executives living in Jakarta.
Willy stressed that all those visitors came purely from Twitter, and the growth is organic. He added that Twitter is democratic, that people can follow and unfollow the account easily. He said, "Adding a follower is even harder than you might think."
So how did @InfoJakarta grow to that number in only two and a half years? Willy explains it in one word: "discipline." For the first two years, he served as the administrator, working on the Twitter account alone. He looked for news, tweeted about it, and chatted with his followers during that time. Right now @InfoJakarta tweets around 100 messages every day, and the team has grown to 6 persons.
What InfoJakarta Tweets About
Willy told us that there are mainly three activities on @InfoJakarta. The first one is traditional news which he gets not only from other online media, but also from his own followers.
On several occasions, @InfoJakarta has received and delivered news faster than any other media. This is because it receives real-time information from its followers spread all over Jakarta. When there was a bus incident involving its radiator, for example, @InfoJakarta followers who were among the bus' passengers tweeted about it and took some pictures of the scene. Some of @InfoJakarta's followers are so loyal that they volunteer to find news for @InfoJakarta every day, and Willy said the followers are quite responsible about their tweeted information.
The second activity it engages in is communicating with followers. More often than not, businesses use Twitter only to feed and push news, but Willy saw Twitter as a tool to interact with people. With Twitter, he can moderate, direct, give feedback, and ultimately influence people. @InfoJakarta does this by asking for people's opinions once in a while, then retweeting interesting opinions that come from its followers. It will make the followers feel appreciated, and in return, this will strengthen their sense of belonging, and their bond, with @InfoJakarta. He adds:
If you tweet asking about people's opinion on [the city's public bus transportation] Transjakarta on Twitter, people will start talking. [Jakarta citizens] want to communicate, they have some kind of bond that we are all Jakarta citizens.
@InfoJakarta doesn't only ask questions, it sometimes also retweets people's questions so that other followers might help answer them. Sometimes, @InfoJakarta retweets people's emergency requests, such as someone looking for a specific type of blood donor. In these situations, @InfoJakarta will contact the person immediately to check its validity, then retweet it to its 260,000 followers. Willy said that people will always come and help out.
The third one is implementing a daily Twitter theme. It's similar with how radio shows use subjects as a talking-point, but here it's done with hashtags. For example, on certain nights, @InfoJakarta will open up its music hashtag [1], and let people use it to talk and spread their demo music. Every five minutes, @InfoJakarta will retweet each demo with its music link to all of its users. Also, every morning @InfoJakarta will tweet a lot of motivational quotes to help cheer up the sleepy folks who are stuck in the hellish Jakarta traffic.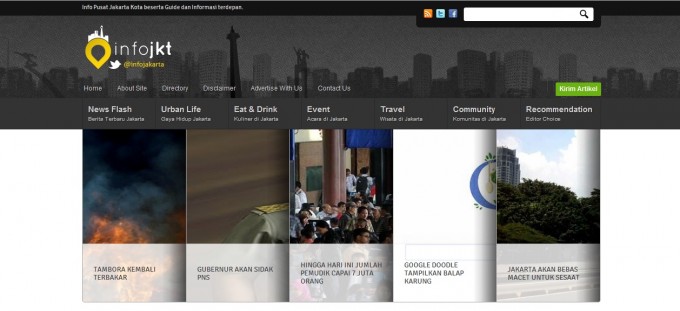 @InfoJakarta mainly earns money through advertised tweets. Willy said that his followers are understanding people, and they realise that he has to earn money for its administrators. I was not able to draw more information from Willy regarding the advertisement fee, but he said that it is not every day that @InfoJakarta will have an advertised tweet.
There are growing trends for other city info Twitters such as @infobandung and @infobogor. Willy explained that they are not his, but they are all working together under one big network, comprised of nine cities, and have gathered around one million followers in total. Sometimes @InfoJakarta will tweet with @infobogor back and forth regarding the weather. If there's heavy rain in Bogor, then there's a chance that the water will travel downward to Jakarta and become a flood there. So sometimes @infobogor tweets at Willy and tells him in Jakarta to get ready when such a situation occurs. He said that his followers found it funny reading a conversation between Jakarta and Bogor like that.
---
The #JktMusic is not active in the Ramadan month, which would explain why it is no longer indexed on Twitter. @InfoJakarta plans to start the forum again at the beginning of September.  ↩

Facebook Conversation
comments