Conducting business in any part of the world looks much easier as new technologies become available, and Indonesia is taking part in that revolution as people can now search more easily for SMEs in Indonesia with IndoTrading.com. To find out more, we talked with Handy Chang, the founder of IndoTrading, about the three-month-old startup and its big plans ahead.
The website looks promising, as users can look for a broad range of Indonesian SME businesses based on products, companies, and provinces. The website is available in both Indonesian and English, though some parts have not been translated to English yet. But I'm told those parts will be addressed immediately.
We're told that most of the companies listed themselves voluntarily, and that the IndoTrading team suggests Google Translate for the English page. That said, I think English-speaking users can still understand about products and about how to contact suppliers. This is because the website very much resembles the global trading platform created by China's e-commerce giant Alibaba, which was the inspiration for the Indonesian website, says Handy.
The website launched just three months ago, and it already has impressive statistics. Handy said it already has up to 5,500 products in the system with more than 800 companies registered, and 90,0000 unique visitors every month.
At the moment, the IndoTrading team is comprised of only eight people: two programmers, one marketer, two administrators, and three people for sales. Handy himself was previously the owner of Indonesian property listing website called RumahdanProperti.com, which was acquired by iProperty.com last year.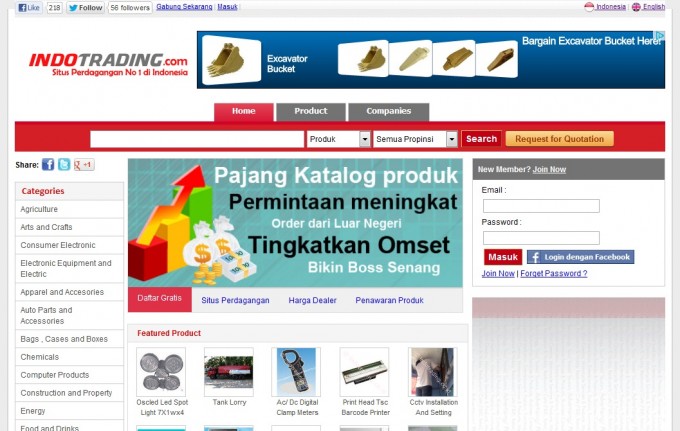 A new global factory?
Handy told us that he uses freemium memberships as his main revenue source. Premium memberships, which costs IDR 1.2 million ($125) per year, will get advantages such as a higher listing in internal searches, better statistics, and faster access to quotation requests from potential buyers. Premium members also get gold membership which can serve as a safeguard for consumers who might want to deal with a more reputable merchant. Handy said that they will get a CMS to help manage the website as well.
Handy looked to Alibaba for inspiration, noting that there are a lot of similarities between China and Indonesia, where both countries have huge populations and where the majority of them cannot speak English well. China's high growth rate in exports can be attributed, he says, to the founding of Alibaba 15 years ago. With its Alibaba.com international site, everybody could easily source and buy Chinese products via the web. Handy hopes that IndoTrading can do the same for Indonesia's exports.
He adds that Indonesia itself has huge export potential because the country is rich in resources: cheap labour and wonderful things such as crafts and agricultural and food products. Handy notes that at the moment, most Indonesian companies still focus on the local market because of huge domestic demand, but he believes that its exports must improve, saying:
The only thing we lack is marketing our products to overseas markets.
Regarding the competition, Handy says that he has yet to see other similar competitors in Indonesia yet, as most big portals concentrate on C2C (customer to customer) market – not this B2B (business to business) model. He claims IndoTrading to be the only portal with dual languages in Indonesia that's concentrating on SMEs. Though we think IndoNetwork can be seen as one of IndoTrading's competition. IndoTrading's differentiator, as Handy sees it, is its investment in sales and support teams that educate SMEs about marketing their products online. Individuals are not allowed to post products.
The team also develops tools that help SMEs to conduct transactions online. The tools developed so far are quotation generating tools in PDF or email format. There's also "bulk request for quotation" as an option for buyers, and statistics tools to measure enquiries by email, phone, etc.
Handy plans to introduce an escrow payments model in the near future to help attract overseas buyers. There's also a plan to partner up with the government to help more SMEs market their products online. He says the hardest obstacle he would face is to educate SMEs from rural areas such as Papua about listing their products online.
Personally I think IndoTrading is on to something here. The startup may prove to become a great asset for Indonesian export market in the coming years. They do not have any investors at the moment, but are currently looking for one.

Facebook Conversation
comments