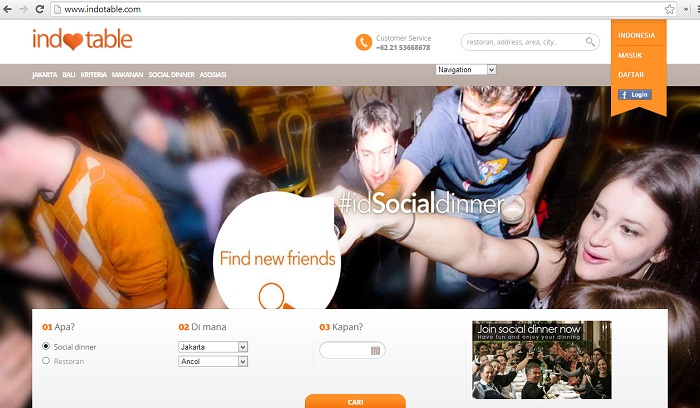 Forever alone? Not anymore. Now is the time for you to mingle over food with the help of Indotable. Indotable has two main features: an online restaurant booking reservation service and an online social event promotion service that helps people gather and talk over food. Indotable has attracted 20,000 registered members to date, focusing on the market of Jakarta and Bali.
The second feature, called "social dinner", launched last month with the aim of uniting new friends who share the same hobby. Diners can create their own social event with any purpose such as trying new meals together, wine tasting, language exchange, product or service promotions, etc. It also aggregates reviews from other services so diners don't make the wrong choice.
Cheng Kuo Tseng, the founder of Indotable, says the company is focused more on social dinners, not on the restaurant reservation service. Why? Because in the past, he started to launch a restaurant booking service and realized it's not yet a trend for locals. Tseng tried his luck by promoting his service in Kemang area, home to many expats and great restaurants. The graph showed that 80 percent of the reservations were made by expats and other foreigners from Singapore and Malaysia. So he decided make social dinner his first priority and become the first to offer such a service in Indonesia.
Indotable is aimed at middle class users (both locals and foreigners) and companies that are willing to pay for good food and used to spending time on business deals at restaurants. That's why the service currently only covers Jakarta and Bali. Tseng explained:
Many business and connections happen during dining so we are concerned about how many events and opportunities we can make, not on the number of restaurants. Of course, as we provide more restaurants for clients, they have more choices to create their own social dinners and taste new meals.
This August, Qraved also launched an online restaurant booking platform, but it focuses more on social media for food lovers.
(Editing by Charlie Custer and Paul Bischoff)

Facebook Conversation
comments