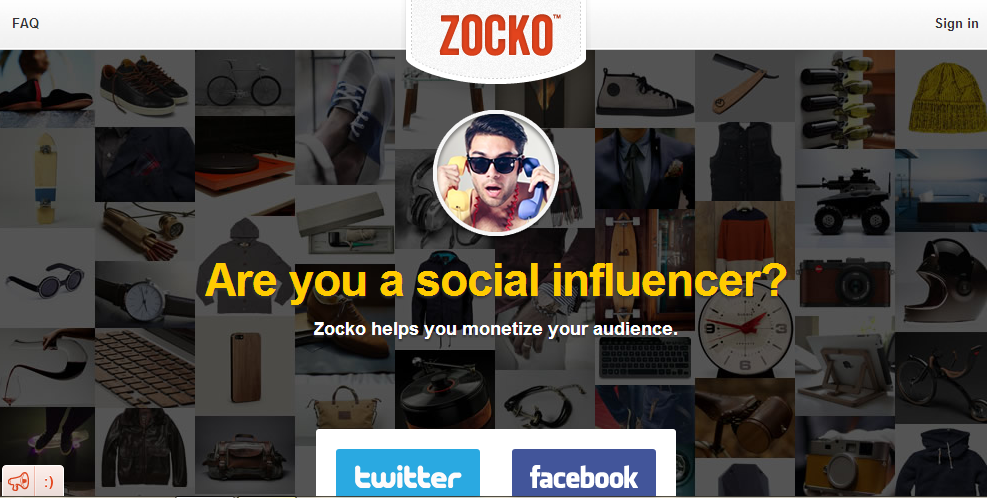 As social media continues to grow in popularity, many brands have attempted to use influential users as channels through which they can advertise. In an attempt to harness authenticity, brands hope that popular "ordinary" figures on Twitter or Facebook will endorse certain products and drive sales, not unlike traditional endorsements from movie stars or musicians. In Indonesia these influential figures are commonly known as buzzers.
Zocko, a new startup that launched its website in beta yesterday, hopes to fill the gap between brands that are willing to pay for endorsements and the buzzers that might be willing to make a buck or two off of their popularity.
Buzzers just need to log into Zocko, choose the products they want to promote or endorse, share their post and finally they get rewards or commission when people who click their post buy the products. Currently there are more than 200 international brands and more than a thousand products that can be promoted by users on Zocko. These products cover categories such as fashion, accessories, gadgets, sports etc. Brands on Zocko include New Balance, The North Face, and Ducati.
Zocko targets users aged between 18 and 24, as this demographic tends to be among the most active on social media. At the moment, only private beta testers are using the site, all of whom will be invited by Zocko to its upcoming launch party on October 18. In the future, the site will open to the public, but all buzzers need Zocko's approval to join. Founder and CEO Carlos Puig tells us:
Everybody can join and they will be approved in no more than three weeks but we will give preference depending on the level of influence of the user as manually determined. No specific number of followers or friends is required.
Zocko is actually a startup from Barcelona as well as a part of Creative HotHouse, a Singapore-based accelerator for software startups in Southeast Asia. The company chose Indonesia as its base. Carlos Puig explains:
Indonesia has an interesting and emerging market, and after observing the market, we also see that Indonesians love to share products through social media.
The company earns revenue from commissions on transactions. Users will receive around 70 percent of the commission and the remaining 30 percent goes to Zocko. Currently, Zocko uses PayPal as its payment platform.
In the future, Zocko hopes to support other payment platforms. Also, if the market's response is positive and the company grows, the Zocko team might develop a mobile app.
Carlos claims that the company doesn't have any close competitor right now. But there is SociaBuzz, which launched last summer and focuses just on Twitter. Also there's IdBuzzNetwork, a social media advertising platform that was launched in April this year. IdBuzzNetwork, which is one of IdBlogNetwork's products, also uses Indonesia's buzzers to promote or endorse products. The difference may lie in the products covered, and that IdBuzzNetwork's focuses on local, while Zocko is broader with internationally recognised products.
(Editing by Josh Horwitz and Steven Millward)

Facebook Conversation
comments