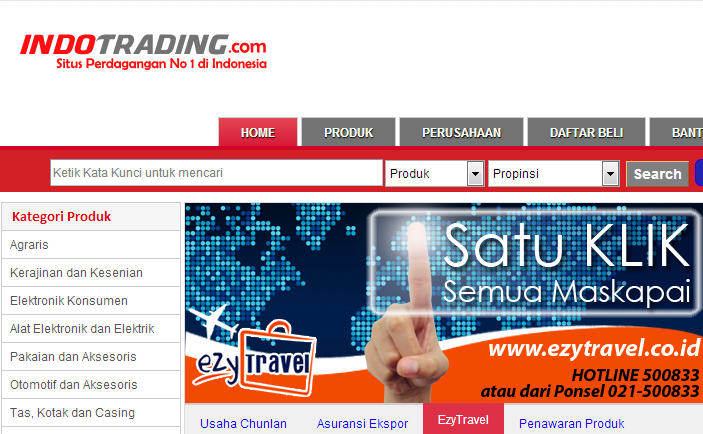 Indonesia's enterprise marketplace website IndoTrading is revealing a few interesting stats about its progress. The company, which was launched over a year ago, has reached one million page views and attracted over 370 paid members and 3,000 free members sporting around 32,000 products. It's good progress compared to the last time we wrote about IndoTrading a year ago, when it only had about 5,500 products.
Founder Handy Chang says the achievement is the result of the company's commitment to keep innovating and using new technology to convince customers. The website is available in both Indonesian and English to reach a global market. IndoTrading's target demographic is mainly exporters and importers. For the upcoming plan, the company will expand its sale teams in the city of Surabaya to attract more enterprise customers.
Regarding the company's competition, Handy claims it has no head-to-head competitors. Most marketplace websites focus on the business-to-customers dynamics, like Indonetwork. IndoTrading is more about business-to-business deals. Handy explains:
We never feel that we have no competitor because the market is so huge. So we play on our own battle field. The problem is not about competitors in this area, but more on how to educate and convince them that the internet plays an important role in your company advertising. Most business owners still put lots of marketing budget into traditional media compared to internet.
It's no wonder IndoTrading was the best graduate of Jakarta Founder Institute batch three, which just graduated last week. IndoTrading doesn't have any investors at the moment, but it is considering some offers.
(Editing by Paul Bischoff)

Facebook Conversation
comments